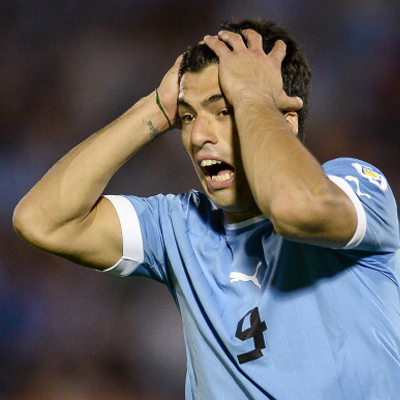 Liverpool and Uruguay striker Luis Suarez has undergone a knee surgery with a mere 21 days left for the FIFA World Cup to kick off. Suarez remains doubtful for the World Cup, following a keyhole surgery. The Uruguayan FA confirmed that the striker felt pain during the training sessions on May 21. Uruguayan official Roberto Pastoriza on Suarez's injury: "Suarez trained with discomfort and it was decided to have an MRI scan. There are very high chances there will be a surgical intervention."
Reports in Uruguay suggest Luis Suarez will have knee surgery on Thursday, placing his World Cup in doubt. http://t.co/32q9y8H3dW

— ESPN FC (@ESPNFC) May 22, 2014
Luis Suarez will be operated on at 7.30am. MT: "@MartinCharquero La intervención a Luis Suárez sería a las 7.30 en Médica Uruguaya."

— ESPN FC (@ESPNFC) May 22, 2014
The 27-year old striker scored 31 goals in the Premier League, becoming the top goal-scorer. His impressive performances nearly helped Liverpool lift the Premier League trophy. Recovery times for meniscus repair for professional footballers range between 3 -10 weeks but the full extent of Suarez's injury hasn't been confirmed. But according to the player's mother, Sandra Diaz, the Liverpool striker is expected to be out for 2-3 weeks.
The mother of @luis16suarez, Sandra Diaz, tells @AP that his surgery was successful and that he is expected to recover in 2-3 weeks...

— ESPN FC (@ESPNFC) May 22, 2014
Suarez's sister Giovanna said her brother felt an uncomfortable pain during his last Premier League game and it returned during his first day of training with the Uruguayan national team on Wednesday. However, she believes the Liverpool star will be ready for the World Cup. "The problem is that these days he won't be able to play, and will only be able to do physiotherapy. He underwent a magnetic resonance and it came out that he had to undergo surgery. It was that quick", she said​. Suarez remains a doubt to feature in Uruguay's opening match against Costa Rica on June 14. Suarez apparently picked up the injury during his last match for Liverpool, which has followed on till the training sessions. However, the Uruguayan FA remains positive over Suarez's recovery before the World Cup.
Uruguay FA statement: Suarez's injury came in Liverpool's last game; surgery successful, NOT ruled out of WC. » http://t.co/LCV3E9U27d

— ESPN FC (@ESPNFC) May 22, 2014
Suarez has scored 38 goals in 77 matches for Uruguay and is supposedly the main player to lead the national side in terms attacking aspects. Suarez ended the 2014 FIFA World Cup qualification campaign as top scorer in the South American section with 11 goals. Suarez's injury will become a major problem for Uruguay, if the striker doesn't manage to recover before their game against England on June 19. The only hope for Uruguay in the absence of Suarez is Paris St.Germain's Edinson Cavani. He has scored 20 goals in 60 matches for Uruguay and has scored 16 goals in 30 matches for PSG. Cavani is capable of filling Suarez's boots in his absence, but if some how Suarez manages a rapid recovery, their partnership will be instrumental for the South American nation.
Uruguay have two World Cup warm-up games scheduled, against the Republic of Ireland on May 30 and Slovenia on June 4. Suarez is likely to miss the warm up games. Uruguay are drawn in Group D in the first round of the World Cup. Firstly, the play Costa Rica on June 14, followed by England on June 19, and Italy five days later.