Devindar follows sibling Yuvraj's footsteps, makes it to national hockey team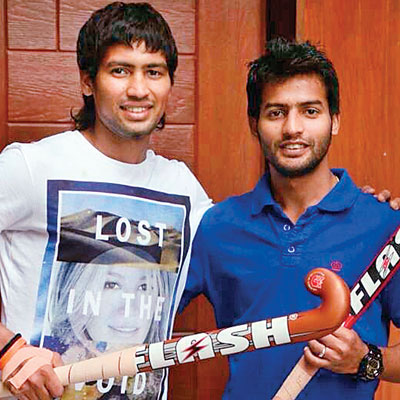 He picked up the hockey stick after watching him. And now, he's playing alongside him.
Devindar Walmiki was on Friday selected in the senior national hockey squad for the tour to Europe in preparation for the World Cup in the Netherlands in May. The call-up not only ended a long wait for the 21-year-old, but also fulfilled a dream the Mumbaikar had ever since he started playing the sport — of representing the Indian team with his brother Yuvraj, because of whom he became a hockey player.
"It was my dream to play with Yuvraj one day. And it's come true. Nothing makes me happier than this. It was a long wait. Yuvi was in the senior team for a long time, while I was in the junior team. But now we're together, and I'm very excited," Devindar said from New Delhi.
It was a pleasant surprise for Devindar, who was deemed not good enough to be a part of the Junior World Cup team last December. It hurt him a little, but as has been the case most times, his elder brother took it upon himself to pick him up.
"It was a little hurting because it was my last year with the junior team. But my brother was there with me throughout, as was my coach Marzban Patel. I kept my head up and challenged myself to work harder from then on. Finally, the day has come," he said.
It indeed has, with twice the joy. Call it coincidence or just pure timing, but Yuvraj also got a job in the Central Railway on Friday, for whom Devindar plays. No siblings have ever played for the Railways together, while the most famous brothers in the national hockey team so far have been Dhyan Chand and Roop Singh. The Walmikis might be next in line.
"I'm very proud of him," Yuvraj said. "He started playing hockey after seeing me for about four to five years. So to play with him now will be a very happy feeling. I still remember my parents used to tell us that we want to see you both live on television playing for the country," he added.
Their first dream fulfilled, the brothers are now eyeing donning the India jersey together in the World Cup. With this tour being a preparation for it, a good show will certainly go a long way in achieving that.
"I'm waiting for the day when we both stand together for the national anthem wearing the Indian jersey in the World Cup," Yuvraj said.
It's the kind of stuff dreams are made of, isn't it? But Devindar knows there's a long way to go, and the celebrations can wait.
"No celebrations for now. It's still a long way to go. We're building a team for the World Cup and that is the biggest challenge for me," the mid-fielder said.
The family, though, are cherishing the moment.
"My mother was so excited that she started jumping when I spoke to her. I think she said 'I'm very happy' at least 10 times. She was waiting for this day. Whenever we were picked for the camp, she would hope that both the brothers will play for India together. It was a dream for her, too. And it has come true," Devindar said.
Gurbaj, Mujtaba back; Sandeep ignored
The experienced duo of Gurbaj Singh and Danish Mujtaba made a comeback to India's 21-member squad. Gurbaj last played for India in the 2012 London Olympics, where the country finished a forgettable 12th. But a good show in this year's Hockey India League for winners Delhi Waveriders seems to have impressed coach Terry Walsh. However, former captain and ace dragflicker Sandeep Singh, who top-scored in the HIL this season, continued to be ignored by the selectors.
Squad: Goalkeepers: PR Sreejesh, Harjot Singh; Defenders: Birendra Lakra, Rupinderpal Singh (VC), VR Raghunath, Kothajit Singh, Gurinder Singh, Gurbaj Singh; Midfielders: Sardar Singh (C), SK Uthappa, Dharamvir Singh, Manpreet Singh, Chinglensana Singh Kangujam, Danish Mujtaba, Devindar Walmiki; Forwards: SV Sunil, Nikkin Thimmaiah, Akashdeep Singh, Ramandeep Singh, Yuvraj Walmiki, Lalit Upadhyay.