Following Dhoni's not-so-full-of-ideas captaincy overseas, it is imperative Team India anoints Virat Kohli captain in longer version.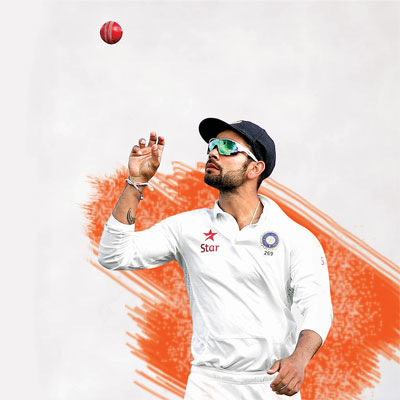 When Dilip Vengsarkar chose MS Dhoni to lead Team India at the inaugural World T20 in 2007, the move made headlines. For starters, it was an extremely bold step. Secondly, Dhoni had no inkling he would get the job. Thirdly, it clicked. One thing led to another and the man with the long mane went on to scale every peak in the cricketing world. But just like all good things must come to an end, so should Dhoni's time at the helm.
Given that the World Cup is less than a year away, it may be not be feasible to try out someone else in the 50-over format. Also, Dhoni deserves a chance to defend the title he brought home after 28 long years.
But when you talk of Test cricket, change is what the team desperately needs. Change in style, ideas, approach, strategies and leadership — there is no other way out. When you preside over 10 defeats in 12 overseas Tests, there is something inherently wrong with your captaincy. And in cricket, the buck must stop with the captain. That's how it's been for ages.
There is another systemic problem with Team India. In our set-up, the vice-captain is as important as any other player. For some strange reason, the powers-that-be have never bothered to groom the leader-in-waiting. Sample this: Taylor mentored Waugh, Waugh mentored Ponting, Ponting mentored Clarke and, now, Clarke is doing the same to Bailey. In fact, the latter is doing well as T20 and, in Clarke's absence, ODI skipper. South Africa, another hugely successful and professional side, also believe in the idea of nurturing leaders for the future. They, too, have used the multiple-captain theory to good effect.
Ditto with England.
Why can't India take a leaf out of these set-ups? What's wrong in thinking about the future? Why are we so averse to the idea of long-term planning? Whatever be the reasons, Team India is suffering. Mohinder Amarnath, the man who dared to look beyond Dhoni in the 2011-12 season, was eased out of the selection committee. Asked about his choice for future captain, he took the name of Virat Kohli. "Gautam (Gambhir) was an option. He had the experience, but because he is out of contention now, Virat is the obvious choice. He has shown leadership qualities at various levels. I think there should be different captains for different formats," the 63-year-old told PTI.
Kohli can do no wrong. A proven match-winner in every format of the game, he is no stranger to the hot seat. Having led the India Under-19 team to glory in 2008, Kohli knows what it takes to get the bets out of his mates. You've seen him do that to good effect in the IPL too. Yes, the Royal Challengers Bangalore don't have a title to show, but who knows, this could be Kohli's year. In any case, he deserves a chance. You have got to look beyond Dhoni.
In mid-2013, Kohli led India to a 5-0 victory in Zimbabwe. Prior to that series, Ray Jennings had told this newspaper that Kohli is a "very different kind" of a leader. "He is someone who leads from the front, someone who loves to make significant contributions with the bat and as a fielder. He has all the makings of a great captain," the RCB coach had said. You don't need proof of Kohli's batting credentials. Along with AB de Villiers, he is the best batsman in world cricket today. He's got runs in every country and in every format.
Jennings went on, "He is young. He is just 24 or 25, not 34 or 35. In other words, he is learning. Allow him to make mistakes. And I am sure he will commit a few. But let's allow him to learn from those." That's the operative part. Instead of allowing Dhoni to fail again and again, the selectors might as well give that chance to Kohli. An instinctive and attacking player, he will lead the way he bats.
Will Kohli's temper cost him dear? Well, we've never heard any of his teammates cry foul, have we? And the opposition? Err, who cares! Isn't everything fair in love and war?