Gulmarg – India's own winter resort – to host the adventure sport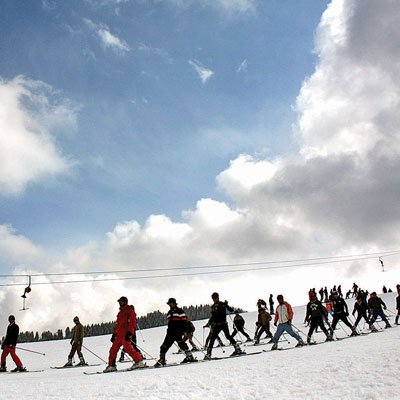 Gulmarg, the renowned winter resort in Jammu and Kashmir, is all set to host an extreme heli-skiing tournament from February 20 where top adventure skiers will be seen in action.
Organized by Kashmir Heli Skiing and sponsored by Airbus Helicopters, the three-day challenge will witness 150 skiers from India and abroad (some of them Olympians) participating in the sub zero temperatures on the higher reaches of Gulmarg.
"We have been trying for the last five years to make this happen. It takes lot of money to organize such an event," said Billa Majeed Bakshi, (Director, Kashmir Heli-Skiing).
The skiers will have to clear the qualifying round before joining the event given the extreme journey they have to undergo during the finals. Around 40 skiers will be selected.
Two AS350 B3 helicopters – capable of cruising and landing on high altitudes – will will drop the skiers at Apharwat peak (13500 feet) before they maneuver through the mountain Alps to reach Gulmarg bowl.
"It is an extreme skiing. Helicopters will be dropping skiers on the peaks and they will have have to ski through. And the person who will
come first will be declared the winner of the race," said Billa.
The sport is mostly patronized by people from Australia, Russia and New Zealand. Not only they love skiing but also possess the required expertise to maneuver through the snow covered slopes.
Cheaper rates, powder snow and good facilities sets Gulmarg apart from other European destinations as a ski resort. To add to that, the place also has world's highest and Asia's longest ropeway.
"Gulmarg has a great history. It is truly an international destination. Now we have all types of skiing – novice, expert. It will shortly be among the top eight destinations as we are working on the slope development," said Talat Parvez (Director, Tourism Kashmir).
What is heli-skiing
Heli-skiing is an adventure sport in which the skiers are dropped from the helicopter on the mountain peaks to skid through the slopes to the last point on the ground.