Balaskrishnan Singhi, 86, wins city leg of world meet; promises to have fun at Malaysia finale.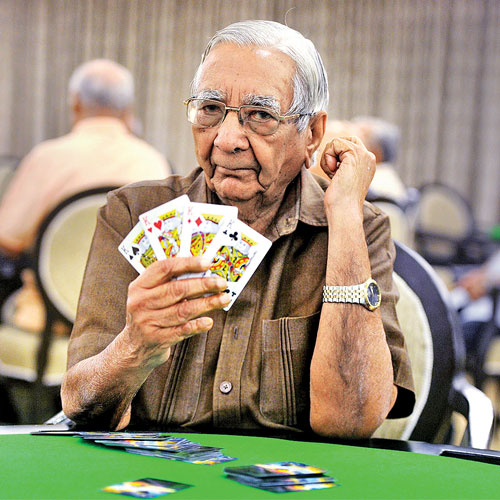 He's been playing the game of rummy for 55 years but there was a hint of beginners luck for 86-year-old Balkrishnan Singhi as he was the winner of Mumbai leg of the World Rummy Tournament held on Saturday at the NSCI, Worli, playing the competition for the first time.
Besides luck, one surely has to hand it down to experience. After all it's not everyday that an
86-year-old wins a rummy tournament and gets to go on a four day cruise onboard the Starcruise Libra in Malaysia-Thailand in March to play an international rummy tournament that will see 240 top rummy players fight it out for a cash prize of Rs 25 lakh.
"Forget me, every single participant thought he has a chance of winning the grand prize. It was my lucky day. With each passing round, one thinks that it's his prize to win," says the Shivaji Park resident, who handles a transport company in the city.
Despite knowing what lies ahead in March, Singhi doesn't seem overwhelmed. "I haven't travelled much abroad so this is something I'm looking forward to." Singhi cruise is from March 9-12.
And if one thought Singhi would be neck-deep preparing for the world championship, then there is a surprise in store. "There is absolutely no question of me praticising for such a thing. How can one practice for a game depending on chance and luck? I'll just go there to have fun," says Singhi.
Singhi's family consists of his wife, four kids and six grandchildren. His son, Ramkishore is the only one who has taken to the game and is an avid rummy fan.
"It's a card game so there has to be a hint of luck. One just needs needs to play his cards right.
Luck will always be there, what is makes the difference between winning and losing is the timing.
It's all about the timing."
Having moved to the city from Gwalior where he learnt the game, Singhi has been a member of the NSCI for the past 40 years. He's not only see the Worli club grow from scratch but also seen the 'recreational game' gain prominence amongst the public over the years. "Initially the game used to be played in a 13-card format, but now it's played with 21 and 27. The 30 card format is the most preferred format in north India. Players over time have learnt to adapt."
As one grows older, he/she tends to keep himself away from exertion, but Singhi is young at heart, and in the mind as well.
"I don't go for morning or evening walks. Playing tennis, hockey and billiards while growing up has helped immensely. Being from Gwalior, I was lucky enough to play hockey with the likes of Dhyan Chand's younger brother Roop Singh for a local team called Jhansi Hero Jhansi. Other than that, listening to old Hindi songs has also kept me young."
Rummy requires sharp memory and reflexes, so what keeps him up and ready for the game at this age?
"If you have a sports background while growing up, things like 86 and age will always be a number and there will never be a doubt as far as memory is concerned. I've learnt to enjoy life every single day. It's God's gift."
With his name now gaining prominence in the city circuit, Singhi is impressed looking at how the game has gained popularity over the ages.
"What we do here isn't gambling so we play without fear and are here to enjoy. Rummy like any other game has its rules and regulations and once you master that, you wouldn't want to stop playing.
"Card games are popular amongst ladies as these games are played at kitty parties. So that's one good thing. The new generation has taken to the game thanks to the internet and other media. The only thing I can hope for is that they leave gambling out of this."