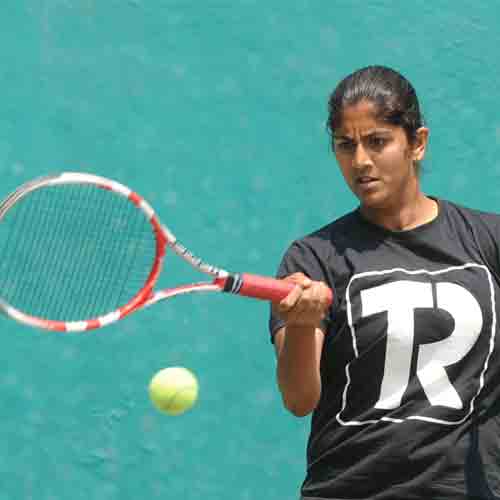 You can take a player out of sport, but you can't take out the sport out of a player. This adage suits 26-year-old tennis player Asha Nandakumar.
After taking a three-year-break from tennis due to the birth of her daughter, Asha's making up for the lost time at the ongoing All India Women's Open Tennis Tournament being played at Khar Gymkhana by progressing to the second round of the singles category. She beat Amreen Naaz 6-0 6-2 on Thursday. She's also into the second round of the doubles category post her win on Wednesday.
It took Asha time to start playing competitive tennis post marriage. Her first 'return' to the game was the opening of a tennis academy in Bangalore a year and a half ago that she still manages with her brother.
"My father and brother urged me to return to tennis. It didn't take me much time to decide as I was eager to play. I knew I could never get back to my earlier best. All that I wanted to see was if I can keep pace with the current generation," says the mother of one.
Asha is no less than a role model for her friends and family. "A lot of young girls have started taking to tennis over the past couple of years. Sania's (Mirza) the only name people know but there are so many girls who are as good as Sania was at the junior level. Sania was lucky to be spotted at the right time. And funding is important if a player has reach certain heights,"
Having played across Europe and Asia, Asha knows international scene for junior tennis. "International bodies see to it that their players are well taken care of. Budding tennis stars here can hardly afford to play abroad. Exposure to these tournaments for Indians comes at a price."
So, what is Asha looking to achieve with her comeback to tennis at this age? She says she doesn't look at as an ambition to achieve something. "Three years maximum. It's good to be a role model for so many. But it's equally important to stay till the end. Post that, it's back to taking care of my daughter. I'll be back to being a housewife ," says Asha.