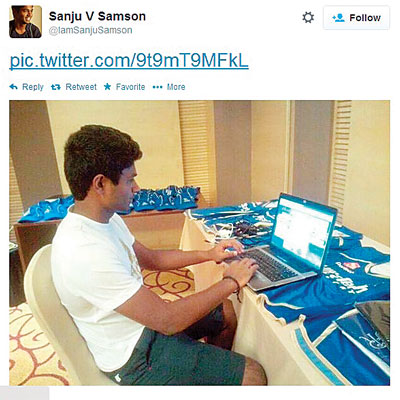 Today, tweeting about a live sporting event is as thrilling as watching it.
How, you'd wonder. Well, Twitter gives you access to sportspersons and their posts. "When Virat Kohli tweets about fellow Royal Challengers Bangalore batsman AB de Villiers's superb knock, he is proving to the world how close-knit the team is. Fans, too, join the excitement. They like to hear stories from within the team, the friendship between cricketers, etc," says Aneesh Madani, head of Sports Partnerships for Twitter in India.
"On Twitter, people are following and sharing content live. It is also conversational. The IPL is a great way to connect to the fans and bring them closer to the event. It is the only platform where conversations can happen across the entire spectrum. One team can talk to the other team, it can be a team conversing with a player, it can be one player greeting another player," he added.
Twitter has partnerships with every stakeholder in the sports industry, be it a federation, player or broadcaster. During the IPL, it showcases tweets on air right from the beginning of the match. Fans have the opportunity to showcase their thoughts to hundreds and millions of 'tweeple' across the world.
"Twitter offers certain benefits to the users like 'IPL calendar' where one can choose to receive notification of their favourite match. The alert lands on the user's phone 10 minutes before the first ball," said Madani.
The platform also engages celebrities from other sports commenting on their favourite IPL team. This increases the brand value of the social network. For example, athlete Yohan Blake tweets about Royal Challengers Bangalore quite often. There are other graphics like player battles where one cricketer is pitted against the other (for example, Kieron Pollard vs Dale Steyn) which enhances the experience of the viewers.
"Fans can also get to read and see candid stories, behind the scenes photos through Twitter Mirror. During the Man of the Match awards, every cricketer signs on the mirror and sends messages to the fans. MS Dhoni, Virat Kohli, Glenn Maxwell, Rohit Sharma and more have graced the Mirror," says Madani, whose other projects include the #ThankYouSachin campaign of personalised digigraphs during the maestro's last series. Mumbai Indians is the most talked about team on Twitter so far this season (259K tweets), followed by Chennai Super Kings (218K tweets) and Royal Challengers Bangalore (194K tweets).
The first 30 days of IPL-7 saw the use of #IPL increase by 38 per cent as compared to last year.
What twitter does during IPL
Before the match: Twitter Calendar Alerts
During the match: Tweets-on-air, team battles, player battles
Post match: Twitter mirror, tweet the play, IPL tweet counter, trending teams
Number crunch
3.6 million
No. of IPL-related tweets posted this season