Indian team hop across the Wagah Border for a 11-day tour, say it was treated like presidents.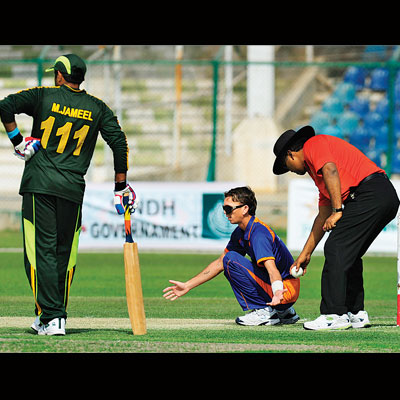 "The sounds in Pakistan are so similar to the sounds in India, we felt like we were at home," Shekar Naik, captain of India's blind cricket team, said.
A 15-member visually-impaired Indian squad, accompanied by two officials, left for Pakistan after a three-year gap to play three ODIs and as many T20s on February 13. It returned home on Tuesday with a sense of pride and happiness.
Pride, for the bilateral series between the two neighbours was stopped after the Mumbai attacks in 2008, though Pakistan visited India for a short ODI rubber in December 2012. But here were the blind cricketers, crossing the Wagah Border by foot for their 11-day sojourn to the very same country that most others across the world found it too risky to tour. They came back safe, and with lots of memories.
"It was an amazing tour," Naik said. "The Pakistan players, and people in general, made us feel like their own. In fact, we were looked after better this time than three years ago. We were treated like presidents."
India played their six games in Lahore, Karachi and Faisalabad. For the record, they did not win a T20 game, and lost the one-day series 1-2, their lone win coming in the second game in Karachi by 36 runs. But, the results are purely of academic interest.
"The funny thing is, we have not won a series yet in Pakistan, nor have they won a series in India. But we gave them a very good fight this time," a proud Naik added.
Of the many memories the players have brought back with them, there's one that will remain forever. Pakistan off-spinner Saeed Ajmal came to watch their third T20 game in Faisalabad and stayed back till the match ended, and met the Indian players. "Ajmal gave us such a good speech," Naik recalled. "He told us he loves India, and said that Pakistan will always support us. He also told us about the free coaching they give to the blind cricketers in their academies."
There was a touch of pride when Naik added: "You know, we also met the governor of Karachi."
Pakistan Blind Cricket Association had invited the Cricket Association for the Blind in India (CABI) in August last year for the tour. CABI, after getting the required confirmation and security assurance from Pakistan, happily agreed for the tour.
Team manager, John David, said, "It was a good experience without any problems. We were given VVIP security so that we had nothing to worry about. The people there are so loving. I don't think we can give such a kind of hospitality when they come here."
But weren't there any apprehensions by some players to visit Pakistan during these times of tension between the two countries, and within Pakistan itself?
"The players just wanted an opportunity to go and play, no matter where," David said. "It is rare that we go on tours, and we hope to go there again soon. In fact, the Pakistan team might visit India by December this year."
The sounds, after all, are similar for them.