Crucial for India that inconsistent opener gets his thinking cap on and gets cracking regularly as he has been on right side of result whenever he has got going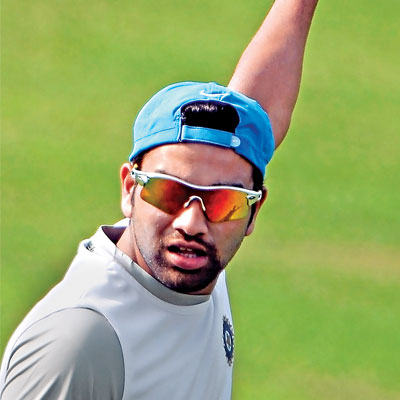 Rohit Sharma's batting is like a puzzle that cannot be solved easily. He is a batsman who possesses much talent and class and often criticised for being inconsistent and throwing away his wicket.
Whenever the talk of him being relegated is raised or he faces the pressure of being dropped from the side, the stylish batsman comes up with a gem of a knock that only makes his critics to eat their own words. Like the other day against the West Indies.
On Sunday, Sharma batted beautifully to stay unbeaten on 62 and guide India to a seven-wicket win over the Caribbeans. He convincingly played off-spinner Sunil Narine, leg-spinner Samuel Badree and the new West Indies sensation Krishmar Santokie during his 55-ball knock that was studded with five fours and two sixes.
Only a few games earlier was he questioned for being inconsistent and the critics started building pressure by calling for the head of the 26-year-old to bring in Ajinkya Rahane, who has been warming the bench for some time now. However, skipper Mahendra Singh Dhoni has showed faith in the opener, persisted with him and the result is there for everyone to see.
Sharma, who started off as a middle-order batsman, seems to be enjoying his role as an opener. Going through the stats, one can only say that he has been more consistent when opening the innings than batting in the middle.
The opening slot suits him perfect as he who takes his time to settle before unleashing himself on the opposition.
Read this: Of the 123 ODIs Sharma has played in, he has opened in 38 innings. Out of his 3,427 ODI runs, 1,460 have come in this position at an average of 42.94 while his overall runs per innings is 35.69.
In T20s too, he has an impressive record as an opener. From 31 T20 international innings, the Mumbaikar has opened in eight, garnering 225 runs at an average of 37.50. His corresponding T20I career figures are 625 and 31.25.
Apart from those impressive stats as an opener, Sharma is also an asset for the team whenever he performs, contributing to the victory.
The batsman has been a part of 68 ODI wins for India and has managed 2,158 runs in those games with three of his four hundreds being match-winning knocks. More than 50 per cent of his fifty-plus knocks have come in winning causes.
It is the same in T20s as well. Sharma has been a part of 22 wins and has 448 runs (625 overall) with five half-centuries coming when India have been victorious.
Lalchand Rajput believed that Sharma knows his responsibility now, but should be careful in shot selection. "There is no problem in technique. He has ample time and plays late. However, the only problem is consistency. Yes, he has to curb that. And to do that, he has to cut down on his shot selections. When you are in form, you become overconfident. But that should not be the case. He knows his responsibility and should be careful about shot selections and take the responsibility of taking the team through," said Rajput, who was the coach-cum-manager when India won the inaugural ICC World T20 seven years ago.
"Sharma has to take one ball at a time, then only can he become consistent. He is definitely doing a great job as an opener," added Rajput.
The former Test opener felt that if India has to win, Rohit will have to play a crucial role. "He is very crucial in World Cup. Look at the way he played the other day against West Indies. He looked mature and took on the responsibility. If India needs to win, Rohit has to be in form," he said.
Legendary all-rounder Kapil Dev, too, has said that the Mumbai batsman has to wear his thinking cap on. "Rohit needs a better head, he is talented and he excites me," Kapil said recently in Kuala Lumpur.
Dhoni admitted that it (62* vs West Indies) was a crucial knock for Sharma. "It was important for Rohit to bat through. We all know the kind of batsman he is on a pitch like this. He will take plenty from this game," he said after India's seven-wicket win.
Sharma in numbers
As an opener in ODIS
In ODIs:
Innings: 38
Runs: 1,460
100s/50s: 2/10
Hs: 209
Ave: 42.94
In T20Is:
Innings: 8
Runs: 225
100s/50s: 0/2
Hs: 62*
Ave: 37.50
In winning causes for India
ODIs
Matches: 68
Runs: 2,158
100s/50s: 3/13
Hs: 209
Ave: 45.91
T20Is
Matches: 22
Runs: 448
100s/50s: 0/5
Hs: 62*
Ave: 56