Riding on a 38-ball 90 from Orange Cap holder Glenn Maxwell, Kings XI Punjab clinch top spot with 44-run win over Chennai Super Kings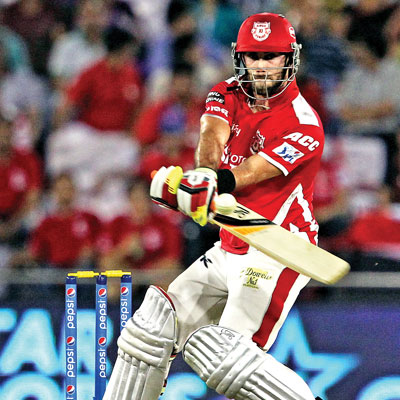 Kings XI Punjab felt at home at Barabati Stadium in Cuttack. Glenn Maxwell played perfect host, entertaining the crowd with what he is known for. After three 'failures', Maxwell was back in his elements. Though he missed his century yet again, he punished Chennai Super Kings for six fours and eight sixes as he breezed to 90 off 38 balls as KXIP posted 231/4 in a clash between the top two teams this league.
Chennai Super Kings found the going tough after they lost in-form Dwayne Smith for four in the first over and eventually lost by 44 runs and surrender the top slot in the table to KXIP.
After showing what he is capable of with his first three knocks – 95, 89, 95 – in the league, anything less than a half-century from him is considered by the fans as a disappointment. He knew the importance of this match and could not have found a more opportune time to come back to his usual best.
It was again David Miller (47, 32b, 5x4, 2x6) and captain George Bailey (40, 13b, 6x4, 2x6) to lend support to Maxwell and take KXIP to the highest total of this season.