As the World Cup descends into brutality, is soccer becoming more gladiatorial than a global game that united the world?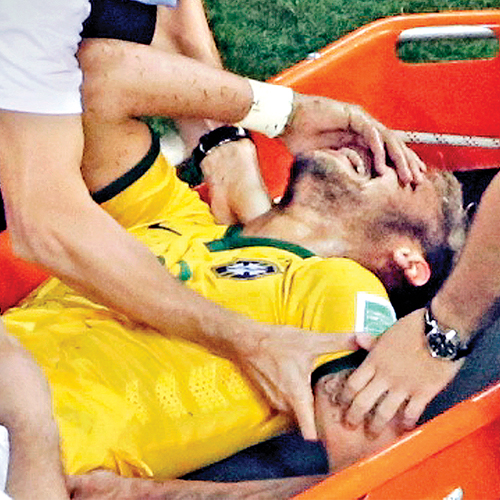 Neymar da Silva Santos Jr, 22, (annual earnings $28 million) carried the dreams of 200 million Brazilians on his shoulders. His photograph adorn thousands of billboards not just in Brazil but in almost every country. On the field, 21 men always kept an eye on him, as his lithe body zig zagged through the field, his dazzling highlighted hair mocking at those trying to stop him. But towards the end of what would have been a euphoric moment for Brazil, as the quarter final match against Colombia was about to be won, Neymar became a picture of tragedy.
In the 86th minute Colombia was awarded a corner and Quintero stepped up to take it. His corner was cleared by the Brazilian defence and Neymar, who was just 15 yards away from the box, took a few steps to control the ball, with his back towards the Colombian goal. While doing that, Colombia's Juan Camillo Zuniga came barreling in, kneeing Neymar in the back while challenging for the ball. Zuniga had no business going after this ball, and even less barreling into Neymar's back the way he did. No, he didn't just barrel in. He jumped up, put his hands on Neymar's neck and pushed him down as he kneed him in the back. Zuniga didn't get carded for the offence.
Neymar knew that his tournament was finished. And as he was stretched of, he cried uncontrollably. "He was crying out in pain," Brazil coach Luis Felipe Scolari said after the match. "It won't be easy to recover." Neymar's third vertebra was broken.
Zuniga simply denied that he tried to deliberately injure Neymar. "It's a normal action, I tried to shadow him. I was not thinking of hurting him. I was defending my country's colours," he said.
The sight of Neymar beign carried away signifed how the World Cup, where nationalistic fervour overrides the misery and poverty of many soccer playing countries, has become one of violence and rough tackles. In this World Cup so far, there have been 165 yellow cards. In 2010 it was 241 yellow cards in South Africa.
It looks like that this World Cup despite all the magical moments it created will be dominated by the images of Luis Suarez biting Italy's Giorgio Chiellini and Neymar being carried out in tears, a victim of his own footballing genius.
Neymar was a hunted man. Throughout the tournament Neymar wasn't given any space to create his magic that he is known for. When he moved a herd of defenders closed in on him, leaving the others in the attacking phalanx a free run. Brazil or for that matter Argentina with Messi had learnt to take advantage of such occasions because it split open the opposing defence.
But on Friday they cut him down for no reason. "Everybody knew that Neymar would be hunted," Scolari said. "It's been happening in the last three matches and we had been talking about it. But nobody listens to us."
According to Hulk, another Brazil striker, Neymar needs more protection from the officials. "Every time it is like this. Players always come after Neymar," Hulk said. "The referees need to do more to keep this from happening."
Across Brazil people chanted "Forca Neymar (Be strong, Neymar)". For the millionaire youngster who cried every time the national anthem was sung, those chants will be the only inspiration as he lies there literally a broken man, his World Cup shattered, his future itself in doubt.
—(With agency inputs)