What sets Glenn Maxwell apart from the rest is his unorthodox style of batting, says Paras Mhambhrey, who has seen him closely at Mumbai Indians last year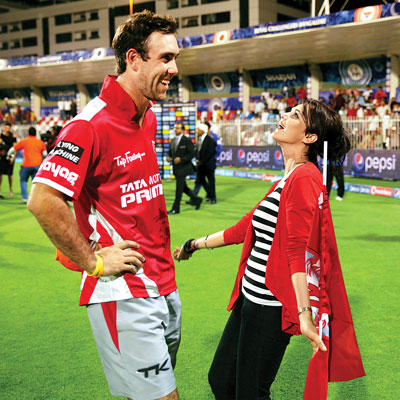 Glenn Maxwell hates being called 'The Big Show', a title given to him by his Australian teammate Mathew Wade for his big hitting skills. Maxwell has been desperate to shed his image of T20 or a ODI player to get back his Baggy Green cap for a while now.
However, his reputation of being a shorter format player has only grown bigger and stronger, especially after his recent batting performances in the cash-rich Indian Premier League.
On Monday evening, a day after he came up with another entertaining knock – a 45-ball 89 that helped Kings XI Punjab chase down Rajasthan Royals' more than par total of 191, Maxwell was asked by one of his fans on Twitter whether he likes the name 'The Big Show'. "#Seriously" hate it... But it looks like it's stuck :(," was how he explained.
Bought by Kings XI in this year's auction for Rs6 crore after Mumbai Indians', who had bought the Victorian for $1million last year, released him, has been the talk of the cricketing world for his batting exploits barely a week into this year's IPL.
The 25-year-old has done it twice in a row what most other batsmen would find it impossible. He has helped KXIP, on the back of his successive half-centuries – 95 vs Chennai Super Kings and 89 vs Rajasthan Royals – chase down stiff targets. Of the two, the innings against Chennai could be coined as the toughest as it came against a stronger attack that included R Ashwin and Ravindra Jadeja under the shrewd captaincy of Mahendra Singh Dhoni where they chased down 205.
Even Maxwell's compatriot and IPL rival Shane Watson has been all praise for the 25-year-old after the game. "Maxwell is the player to beat at the moment. He has done an incredible job for Kings XI. The team will not lose a single game if he plays like that over the next 14 games but everyone knows how cricket goes and it doesn't always pan out that way," said Watson.
Maxwell's batting is all about how a modern day batsman is. He is not in the mould of a Shahid Afridi, who would just go after the attack blindly, nor does he bat like a Chris Gayle, who is all about power. Maxwell is more than that.
He is an intelligent batsman who uses skills with power. The batsman convincingly reverse sweeps spinners for boundaries while the seamers are swept, paddled or scooped over the deep with elan. And mind you, none of his shots look ugly and are received with applause.
Former India medium-pacer Paras Mhambrey, who saw him closely last year as one of the supporting staff of Mumbai Indians, felt it was unorthodox batting that set him apart. "When we went for him last year, he had a big hitter's reputation and the way you see him today is how he has been. It is his unorthodoxy that set him apart. The best part is he is consistent even in his reverse sweep. He is unpredictable and the margin of error is pretty less with him. He is someone who can convert good deliveries into boundaries," said Mhambrey.
"Right now, he has been in good nick and consistent. He does not use brute force like a Gayle or Afridi but moves around the crease, upsetting the rhythm of the bowlers," he added.
Mhambrey said it's not just one day that he got up and started playing like that. "Having seen him closely, I can say he has worked very hard. He has good work ethics and has worked on his skills. I have seen him practice that reverse sweep a lot. He has been on top of the game after a lot of practice and the talent," added Mhambrey.
Maxwell in IPL so far
95 (43b, 15x4, 2x6) vs Chennai Super Kings
89 (45b, 8x4, 6x6) vs Rajasthan Royals