With about a year for WC, recent results show that India's woes start right at top of batting order and it percolates, bowling and wicket-keeping to need overhauling.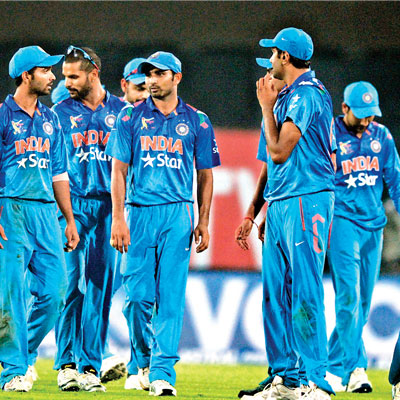 Two big mis-hits by Shahid Afridi off Ravichandran Ashwin in the final over on Sunday signalled another dismal performance by India in limited-overs in recent times. Ashwin, until those two loose deliveries that allowed Afridi to send the ball out of the ground by a distance, had bowled well in tandem with Amit Mishra, bringing India back in the game.
Ashwin has been a vital cog in India's bowling wheel that his failures have often reflected in India's results. This also shows how inconsistent the team has been. Not just in bowling but also in batting.
In their last 11 matches starting with the tour of South Africa, India have lost eight while winning only one, against Bangladesh in the Asia Cup opener. One was washed out while the other one ended in a tie.
Losses in the ODI series against South Africa and New Zealand and defeats to Sri Lanka and Pakistan in Asia Cup have raised many questions.
Will the series of losses affect India's preparation leading to next year's World Cup? Does the composition of the team needs to be changed? Should Shikhar Dhawan have another opener after Rohit Sharma has been consistently failing to put up a big score? Who can support the hard-working Mohammad Shami with the new ball? Shouldn't leg-spinner Mishra, who was India's best bowler against Pakistan, be given more opportunities?
Former chief selector Kiran More said that there was no need for India to panic. "Our cricketers have been playing too many matches. They need to focus on being consistent. The key to success is consistency. They are good players, no doubt," the former India wicket-keeper said.
One player who has been playing all the three formats is Ashwin, and perhaps that has shown on his inconsistency. Said More: "Ashwin needs to focus more on line and length and not try too many variations.
He needs to work on his Test-match bowling, what line and length to bowl. That, in turn, will benefit him in ODIs. Even though he is a professional, playing all the three formats is bound to affect his line and length."
There has been too much pressure on the spinners as the medium-pacers have not been able to contain the batsmen. "We need good fast bowlers. Shami has been consistent but does not have anyone to back him. Bhuvneshwar Kumar did well in his first year but now there is a question mark over his abilities," said More.
Former India captain Dilip Vengsarkar was of the view that India should now focus on the tour of England, where they play five Tests. "Forget World Cup preparations. I don't understand why people are obsessed with World Cup preparations. We have an important Test series coming up in England. The team has to prepare for that because last time we went there, we lost 0-4."
India's worries begin right from their openers, Rohit Sharma and Shikhar Dhawan.
As former India middle-order batsman GR Viswanath put it, "unlike in the past, the opening partnership has not been coming together and that is an area of concern," Sharma and Dhawan have lost the spark that was seen last year. Sharma, especially, has been struggling for runs, chewing up a lot of deliveries. In their attempts to score fast, they lose their wickets. This has left India depend heavily on Virat Kohli and MS Dhoni.
It was here that More felt the presence of Yuvraj Singh would have made the difference. "India is missing Yuvraj at No. 6. He is a match-winner and while we have Kohli and Dhoni, you need to have Yuvraj also, depending on his form in domestic tournaments," More said.
With Dhoni injured, India went back to Dinesh Karthik, who did not grab the opportunity with both hands. Not only did he fail with the bat but also missed two crucial stumping chances, one each against Sri Lanka and Pakistan, that mattered in the end result.
More said: "For all his experience, Karthik should have capitalised on the opportunity he got. He needs to work hard on his keeping. It is a competitive world. While one cannot judge his performance based on one tournament, his missed stumping chances will now raise questions about his keeping abilities.
"Also, he knows for a fact that once Dhoni is fit, he will have to hand over the gloves back to the India captain. It was there that he should have made the most of his batting chances and cemented his place in the middle-order."
However, that's only one of the many chinks in Indian armour.