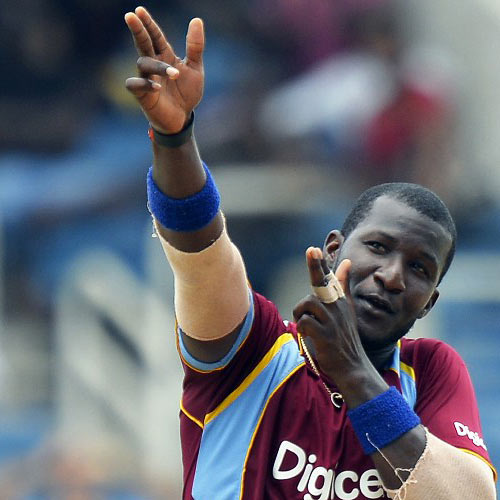 A day after announcing his retirement from Test cricket, West Indian Darren Sammy tells G Krishnan that he is proud of his record as a West Indies captain. Excerpts:
Thirty is the age when cricketers are at the peak of their careers. Could you not have carried on under Denesh Ramdin?
I was speaking to the selectors and the West Indies Cricket Board. The direction the West Indies (WI) Test team is heading, my service as a captain and a player is no longer required. It was time to call it quits on Tests. It was clear to me that WI Test plans did not include me in them. It is not about not playing under anybody. Like I have done throughout my Test career, my cricket has not been about Darren Sammy. It has always been about WI cricket and WI people. I have always been a committed guy. Wherever I play – Tests, Twenty20 or ODIs – I have always given my all. As a young man, I have always dreamt of playing for WI in Tests. I'm forever thankful for the opportunities to fulfil my dreams. When I was asked to captain the WI team (in 2010), it was probably the most challenging time in my career and probably the most challenging time in WI as it was heading in a new direction and stability was needed. I took on the task bravely. In the face of adversity and plenty of criticism, I did bravely and did not complain. I always had a smile on my face. I am thankful for my teammates, management staff and coaching staff for their support. Those are the memories I always cherish. I also want to thank my close friends and the family for all their support they gave me throughout my Test career, especially my wife Cathy. WI cricket is at a new stage and we are heading in a new direction. I want to wish the new captain Denesh Ramdin all the best and god's blessings on him. As I said, I continue to commit whole-heartedly for ODIs and Twenty20.
When you took over as captain, questions were asked about your place in the XI. How did you deal those situations?
I guess the nature of the man that I am, I thrive on criticism. I remember after winning the World T20, I said, "The way I live, I am a Christian. Christ did nothing wrong, yet he was crucified. So, who is Darren Sammy?" I have accepted it from the day I started playing cricket. Not many people gave me a chance and said that I could not make the team. These things did not bother me. I believed in myself, in my own ability. Once I know that I go out there and give my best to my team, to my region, to my country, that is what really matters to me. It did not really matter what opinions people had. They are allowed to their own opinion.
Could Darren Sammy have done better in Tests?
Of course. I would have loved to have done better in Tests. I want to be better in any format of the game. There is always room for improvement. I don't feel there is a perfect cricketer. Probably, Vivian Richards, Sachin (Tendulkar) and (Brian) Lara would come closest to being perfect. These people would have also told you that they wished they could have done better. I am proud of what I have done with the resources given to me. I am not in the calibre of greats like Sachin, (Jacques) Kallis and Lara but I am proud of what I have done in Test cricket.
You said about doing well with the available resources. Did you get enough support from your team-mates?
Look, when I was captain, I always had the backing of my team. I don't think any cricketer would want go out on the cricket field and underperform. At the end of the day, you don't play cricket for the captain. You play cricket for yourself, your region and what motivates you to go out and play cricket for. I refuse to believe that any cricketer during my time as captain underperformed.
How tough was it for you to lead a team of players from different islands?
Unlike other countries, captaining the WI is very challenging. You have guys coming from different countries, different culture. It's difficult. That is why cricket, they say, is the one thing that unites the Caribbean people. I gave it a good shot. I guess the calibre of person that I am, the attitude, allowed me to do that. It was easier to do that being the person that I am. I always cherish the great memories we had, be it in the dressing room or on the cricket field and on tours. I am forever thankful to that.
How much has Ramdin matured over the years to now lead West Indies in Tests?
What I have seen him over the last few years, he is a much improved cricketer. It is a challenging job but I know he is ready to face it. He has a lot of experience leading Trinidad and has captained West Indies before in the absence of (regular) captains. He has a good cricketing brain. He has matured tremendously over the years. I hope everybody rallies around him and gives him the support that he deserves. I pass on God's blessings to him as he takes on this job and take us forward to a new era of Test cricket.
Shivnarine Chanderpaul broke into the scene a decade before you did, and is still playing Tests. How long can he go on?
Chanderpaul is a very hard worker. Like most cricketers, that is what he wanted to do since he was a little boy. He had people bowling to him in his village. He just batted and batted. They took him out of school just to play cricket. He is testimony to real hard work. A lot of our young batsman should take a leaf out of his book and try to emulate his work ethics. I still feel he has a lot to perform for the next few years. Whenever he decides to call it quits on his career, he would have been an amazing cricketer for us.
What has been your most cherished moment in Tests?
As a Test captain, winning six Tests in a row (July 2012 to March 2013) was probably the highlight, something WI have not done for a while. Also, beating Pakistan, a higher-ranked opposition in Guyana in May 2011 in which I was man of the match and took my last five-wicket haul in Tests.
What were the difficult times as captain?
It was the series in India, November 2011. In the first Test in Delhi, we were leading on first innings and collapsed in the second. Had we won the Test, it would have been the first time we had won against a higher-ranked opposition for a while. In the third Test in Mumbai, we were again leading and it ended in a draw. Also, the Test series against Australia in the Caribbean in April 2012. It was very very competitive and we ended up on the losing side. We competed a lot throughout my time. We took Test matches into five days when previously we were losing in three and four days, sometimes 2-1/2 days. With the resources I had, I am proud of what I achieved.
Finally, what has Test cricket taught you?
Test cricket has made me a better human being. Captaining on the whole has made me more patient, not just on the cricket field but in life in general. Captaining the Test team made me realise something I did not know existed within me. With constant criticism in the media (laughs), people asked me how I am cool and calm and just go about doing my everyday routine, preparing for a game with so much pressure. I did not know I could have handled so much pressure, maan. Yes, Test cricket taught me a lot. The word itself defines it. Test cricket is a test of your skills – mental, physical, technical. It tests your character.
Sammy in Test cricket (2007-13):
Batting: 38 matches, 63 innings, 2 not out, 1,323 runs, 106 highest, 21.68 average, 1x100, 5x50, 65 catches
Bowling: 84 wickets, 7/66 best bowling, 4x5WI, 35.79 average
As captain (2010-13): 30 matches, 8 won, 12 lost. 10 drawn