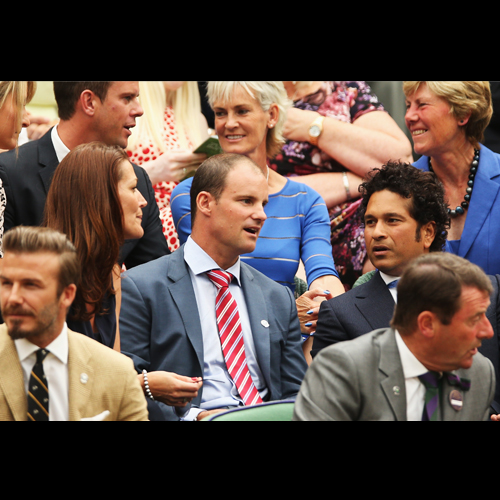 Sachin Tendulkar may have hit a century of centuries and be considered one of the best cricketers in the world, but that hasn't earned him any recognition from the grand-slam champion Maria Sharapova.
The cricketing legend, who is a regular at the Wimbledon, was seen in the Royal Box on Saturday, June 28, in the company of other sports greats like football hero David Beckham, golfer Ian Poulter and the former England cricket captain Andrew Strauss.
When asked about the occupants of the Royal Box in the post-match conference, the French Open champion said she was familiar with David Beckham. "I've actually met him a couple times at events in LA and in London. He is a great guy. Besides being an incredible football player, he has done so much in his career, having a family, maintaining so many things off the court. He is a really nice person to chat to. We're not best friends or anything, but it's nice to be able to say hello and congratulate each other on achievements we've had in our careers and so on."
However, when asked about Sachin Tendulkar, the Russian tennis player drew a blank.
Reporter: "Sachin Tendulkar was the other person who came in at the same time as David. Do you know who Sachin is?"
Maria Sharapova: "I don't."
Tendulkar, who is on good terms with Swiss tennis player and world number 4 Roger Federer, is one of the most celebrated and revered cricketers in the world, and yet his fame hasn't clearly reached the ears of the tennis beauty. This comes as a blow to all cricket-frenzied fans, especially Indians.
Speaking further, Maria said the one sportsperson who she had a 'star-struck' moment with was legendary basketball player Michael Jordan. "Yeah, I randomly met Michael Jordan at a private airport. I don't even know why. I didn't grow up watching so much basketball. I was like, wow, that's cool. I don't really know the reason, but I think of all his success on and off the court, it's great to meet someone like that. He recognised me, which is pretty cool I thought back in the day."
The result of a poll conducted by BBC Sport showed Sachin as the biggest sportsperson in the Royal Box that day.
Result: The greatest sports star in the #wimbledon Royal Box = #tendulkar 40% #charlton 30% #beckham 19% Wiggins 11% pic.twitter.com/hbThtBnypD

— BBC Sport (@BBCSport) June 28, 2014
But, that's clearly something Maria doesn't agree with. Meanwhile, Indians decided to express their astonishment on Twitter by making the topics "Sachin Tendulkar" and "Who is Maria Sharapova" top trends.
Who is Maria Sharapova? #WorldCup #FIFA #Suarez pic.twitter.com/9fXPzaHYHm

— Sir Ravindra Jadeja (@SirJadeja) July 2, 2014
This is who Sachin Tendulkar is!! #GodOfCricket Who is Maria Sharapova? pic.twitter.com/2F43rQot1n

— Saurabh Varshney (@Sabbyy99) July 3, 2014
So Sharapova doesn't know who Sachin Tendulkar is.How&why should that hurt our Indian pride?Why is our ego so fragile?or outrage comes easy?

— Priyanka Chaturvedi (@priyankac19) July 3, 2014