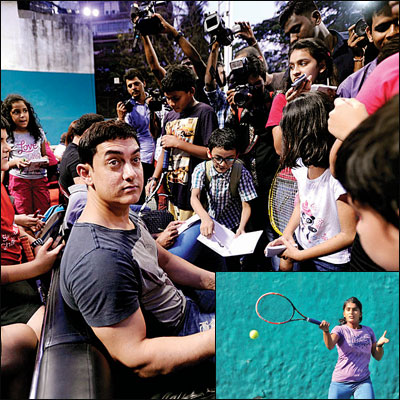 The final of the All-India Women's Open Tennis Tournament between Himani Mor and Tanushree Palanwale was an enthralling affair. The quality of tennis was top-notch and the contest lasted well over two hours.
There was foot-tapping music; there were bhangra dancers; there were poor calls from the officials. And there was Aamir Khan. What's more, he even took over as the chair umpire!
After the customary handshake at the net, Palanwale, who finished second-best, was at her sarcastic best: "The game wasn't one bit distracting. It was all good." On the other hand, Mor, who won the hard-fought final 7-5 4-6 7-5, chose to look at the bright side of things. "We knew Aamir would be the chief guest so we had to make peace with the distractions that came along. I didn't expect him to take the role of the chair umpire but I loved this gesture of his. Makes my victory even sweeter."
Things went according to plan in the first set. Khan sure made heads turn the moment he stepped onto the court midway through the second set. Accompanied by an entourage of bodyguards and chased by countless photographers, he made his way into the Khar Gymkhana. Within seconds, a tennis final turned into a 'photo-op'. Kids will be kids, but even the linesmen seemed to have forgotten their job. Post that, no one cared for Mor and Palanwale. So much so that the cameramen sat inside the playing area just to get their 'kodak moment' with Khan. The distraction and chaos was clearly telling on the faces of the players.
Tempers flared when chair umpire Sudhir Shah was replaced by Khar Gymkhana member Mayank Vivedhi. If that wasn't enough, the game of musical chairs continued with the music finally stopping when Vivedhi asking Khan to take over. There was more mayhem. But it must be said that Khan got a majority of his calls right.
Shah, the original chair umpire, came up with an interesting explanation when dna asked him about three chair men taking turns to officiate a match. "Aamir has been a Khar Gymkhana member and is known for tennis as well. I doubt why anyone would have a problem with him taking my place today," said Shah, who stepped down from the chair because of a bad back.