Over the years, Delhi Daredevils have had a roller-coaster ride in Indian Premier League (IPL). In IPL 2014, they would look to put the disappointment of previous years and go all the way to taste the glory of success. Bharath Ramaraj has more…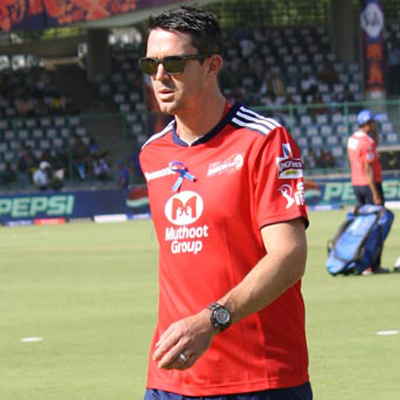 Over the years, Delhi Daredevils have had a roller-coaster ride in Indian Premier League (IPL). In IPL 2014, they would look to put the disappointment of previous years and go all the way to taste the glory of success. Bharath Ramaraj has more…

The eagerly anticipated Indian Premier League (IPL) 7 will begin on April 16 in United Arab Emirates (UAE). It is that time of the year when everyone will be glued to their television sets and make a beeline entry into the stadiums to catch a glimpse of their heroes.

In the days to come, eight teams will look to scorch the desert baked in sunshine with sparkling performances. One of the teams that will try to find their path to splendored glory after a disappointing showing in IPL 2013 are the Delhi Daredevils (DD) setup.

The DD setup found themselves rooted to the bottom of points standings in 2013. This season, they have looked to revamp the setup. England's Kevin Pietersen has been appointed as the captain and they brought a slew of new players in the IPL 2014 Auction in an attempt to change the fortunes of the squad.

Let's have a look at some of the key features of the Delhi Daredevils squad for IPL 2014 season.

Captain

Despite being unceremoniously dumped by his country for disciplinary reasons, Pietersen found favour with DD setup and they even made him the captain of the team.

With Pietersen having that rare ability to lead a side from the front with his turbo-charged performances, he can inspire the squad. From his brief stint as the captain of England team in 2008, it was evident that he is an aggressive skipper who is prepared to go for the jugular. Now that should come into play in the shortest version of the game. It has to be said though, Pietersen's captaincy has its share of pitfalls, as all-out aggression may not always work.

It will be intriguing to see how Pietersen goes about his job of captaining the side on slow and low tracks of UAE. He comes across as someone whose strategy is to hit the opposition with pace. He also likes to use left-arm seamers and slow left-arm orthodox bowlers. One has to remember that before ICC World T20 2010, it was Pietersen who reportedly coaxed the then England captain, Paul Collingwood to pick left-arm medium pacer, Ryan Sidebottom instead of James Anderson.

Key Indian players

One of the secrets to doing well in IPL is to plump for quality Indian players. DD will depend on Dinesh Karthik, Murali Vijay, Manoj Tiwari, Mayank Agarwal and company to provide the impetus in the batting line-up. Vijay in particular, is a fine player of spin and is good at playing lofted shots. Tracks in UAE should suit his style of batting. Kedar Jadhav, the rising star of domestic cricket will also be looking forward to playing in the IPL.

In the bowling department, they have Mohammed Shami, Jaydev Unadkat, HS Sharath and Rahul Shukla. Pietersen's preference for left-armers may see Unadkat getting more opportunities. Shukla has raw pace in his armour.

Shahbaz Nadeem and Rahul Sharma are the two spinners in the side. Rahul's skiddy top-spinners may turn out to be a surprise package in UAE.

Key Foreign players

Obviously, Pietersen himself is a vital cog in the line-up. When he walks out to bat, bowlers know that they have an uphill task on their hands. More importantly, he is available for the entire duration of the IPL. Ross Taylor and JP Duminy will look to shore up the middle-order. Duminy has a wide range of shots against the spinners. Just like a true ballet dancer, he can use his feet to loft spinners and can twin it with playing the sweep shots.

It has to be seen whether Quinton de Kock will get a chance to play. He has a tendency to play on the up and that may act as a hurdle in UAE. Wayne Parnell can be a vital cog in the bowling line-up.

Strengths

DD have picked a balanced squad. They have the required ammunition in the batting department to fire on all cylinders. They have the variety in the bowling line-up as well. For DD, it is all about getting the right combination for each game and playing well on the day.

Weaknesses

Most of their batsmen including Pietersen and Taylor prefer pace on the ball. But especially while playing in UAE, they have to adapt. Pietersen can be a great captain for DD. However, there were times in his brief stint as England captain when he struggled. Who can forget the Chennai Test against India when he attacked Indian batsmen with short pitched stuff on a slow track and paid the price? From DD's point of view, hopefully, he has learnt from past mistakes. They are perhaps short of another back-up spinner as well.

Past record

If we look back at Delhi Daredevils through the lens of numbers, they have struggled for consistency. In 2008 and 2009, they reached the semi-final stage of the tournament. In 2012, they were knocked out in the Play-Offs. But other than those three seasons, their performances have been below par. Last year, they finished at the bottom of points table.

On paper, Delhi Daredevils have the squad to reach the later stages of the tournament. But in a T20 tournament, it is hard to predict the fortunes of any team.