Goan outfit will have to put their best foot forward when they take on Indonesia's Semen Padang today in AFC Cup.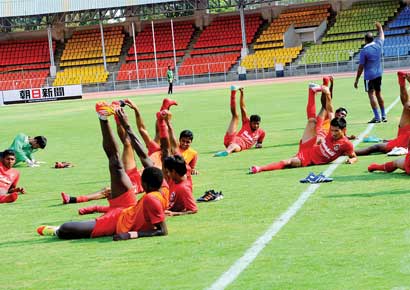 Semen Padang of Indonesia start as favourites when they take on Churchill Brothers in a Group E clash of the AFC Cup football match at the Shiv Chhatrapati Sports Complex, Balewadi, on Tuesday.
Both the teams are making their debut in this competition, but Semen Padang, champions back home in their premier professional league, are equipped with better ammunition.
Churchill are boosted by the arrival of Sunil Chhetri and Alberto Mendes Silva (Beto). "It is a tough call but we will give our best," said Mariano Dias, head coach Churchill Brothers.
The Goan outfit is in the fray after Dempo SC pulled out of the continental competition citing too many injuries and disruptive scheduling.
"It is a great opportunity for us. With Beto and Chhetri playing after a long gap, it would make this contest more interesting," said Dias.
The Ravanand-led side will do well to forget the defeat they suffered at the hands of Kitchee SC of Hong Kong in the previous game and not repeat the mistakes. "Yes, it was a defeat, no matter how it happened. We have made worked on the mistakes and hope to come good," said Dias.
"It's all about the three points," was what Semen Padang coach Jafri Sastrak had to say about the outcome of the match.
Quite happy with the pitch and the facilities, Sastrak will miss the services of two key players. Yoo Hyun Goo of South Korea has been ruled out due to injury while Edward Wilson Junior could not travel with the team due to visa problems. "They are key players but we do have a good bench support. Their absence will not make much of a difference," said Semen Padang skipper Alie Aiboy.
Esteban Vizcarra from Argentina has been a driving force for the Indonesian champions. Along with their own Titus Bonai, the visitors look a formidable side.

@joepune