Champion wrestler pours cold water on WFI's plan to send him to Incheon instead of Tashkent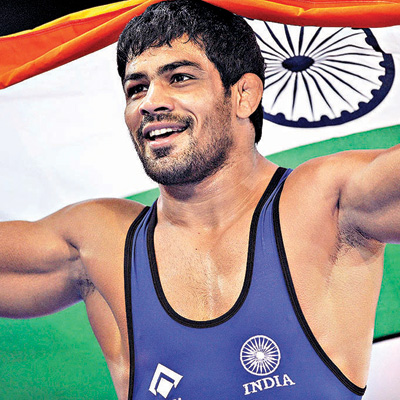 The Wrestling Federation of India's (WFI) gameplan to field its best team for the Asian Games in Incheon, South Korea, has backfired with star wrestler Sushil Kumar deciding to participate in the FILA Wrestling World Championships to be held in Tashkent, Uzbekistan, from September 8.
This development comes two days after dna reported how chief coach Vinod Kumar obtained the WFI's permission to send the country's best wrestlers to Incheon and a second-string squad to the world championship. This, Kumar believes, is imperative to maximise India's chances of collecting gold medals at the continental championship.
Sushil, though, has made his priorities clear. "For me, the World Championships has always been at the top (of the priority list). I'll prefer to win a world championship gold over any other event, be it the Asiad. I remember, when I became world champion in 2010, the whole wrestling world hailed my achievement," was how Sushil reacted to the dna report.
When asked if he wants the entire crop of top wrestlers to take part in the world championship instead of the Asian Games, Sushil said, "It depends on the individual or the WFI. I can only say that nothing can match the kind of experience a wrestler gets from competing against the top athletes at the world championship. And the experience one gets there can't be matched. That experience can be used for winning medals elsewhere."
The WFI wants all CWG medallists — Sushil, Yogeshwar Dutt, Amit Kumar Dahiya, Bajrang, Satyavrat, Rajeev Tomar, Pavan Kumar, Babita and Vinesh Phogat — to concentrate on winning gold at the Asian Games.
"Yes, we've planned to send two separate teams for the world championship and Asiad," confirmed WFI secretary Raj Singh, adding, "In case, Sushil wants to take part in the world championship, he may do so."
Singh added that the logic behind selecting two teams makes sense because there is hardly any time between the two events. "In a sport like wrestling, one needs at least a month to regain fitness. It's difficult for any wrestler to gain or lose weight in such a short span of time. That was the main reason behind selecting different teams."
Meanwhile, chief coach Kumar has called all the wrestlers for a selection trial in Sonepat on August 13. Only Sushil and Dutt have been exempted from appearing for the trials because of their seniority.