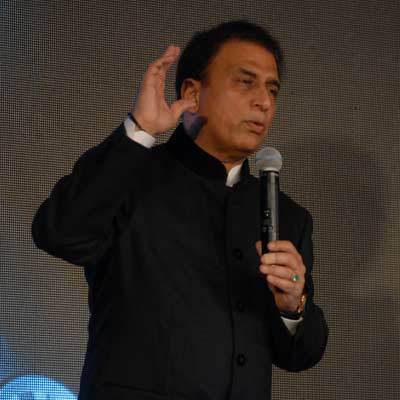 The former Indian captain was a monster on the badminton court at Bombay Gymkhana, says his one-time opponent Gulamabbas Vahanvati
When he co-owned the Mumbai franchise of the Indian Badminton League, very few knew his love for the sport and that he could actually give a trained shuttler a run for his money. Former India cricket captain Sunil Gavaskar was a God-gifted badminton player. One of his opponents during his days at the Bombay Gymkhana, Gulamabbas Vahanvati, says how the legend created music on court.
His partner was the late Gautam Thakkar, a former Asian junior champion.
"It was always fun with him. You know the best part? He never used to work out but was always fit. He used to come here and play the game as if he has been at it for the last 50 years and he moved damn well on the court," says Vahanvati, who was the president of the club from 2004-2007.
Vahanvati teamed up with Dr. Ajit Pai against Gavaskar and Thakkar and they went on to play for more than 17 years together.
"Top badminton players came here to play. I have seen Erland Kops to Prakash Padukone and Gavaskar's enthusiasm was no less than theirs. I was stunned seeing his retrieving powers. He played all those jump smashes like a professional shuttler," says Vahanvati.
The 63-year-old remembered days when they used to walk in at quarter to three and play till 4 pm on a regular basis from Monday to Friday.
"People in Bombay Gymkhana used to time us. The word spread and we became popular. People came to watch us," he adds.
But didn't Gavaskar get mobbed? "He had already made it big, that's true but once he became a member here. He became friendly with people. He even played with the court markers, so humble a person he was," says Vahanvati.
One of those markers, Rajesh Jadhav, recalled his first interaction with Gavaskar.
"I became a marker because I wanted a job but I didn't know I would get to play with a legend like Gavaskar Sir. We used to get time to play games. Abhi toh filhaal khelna hai hota hai Thakkar saab jaane ke baad (now we don't play much after Thakkar's demise)," says Jadhav, who sulked at not being given permission to play in the main open during his time.
"Sir used to keep the mood friendly and jovial, as we all were old friends. His strong point was that you could never read his shots. It was difficult to interpret whether he would drop or smash. His was a deceptive game," adds Jadhav.