Interim IPL chief brings HDFC chairman Deepak Parekh on board as special advisor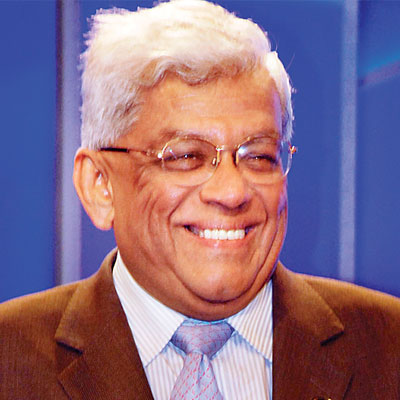 Flamboyance and aggression were never his watchwords. In that respect, Sunil Gavaskar has played true to style. Displaying his famed penchant for doing things slow and steady, the legendary opener finally took a tangible step to clean the muck. Two weeks after the Supreme Court appointed him interim BCCI president for IPL-related affairs, the legendary opener brought on board Deepak Parekh as his special advisor.
Parekh, a doyen of real estate in India, is a self-confessed cricket aficionado. But that's not what he's famous for. A long-time chairman of Housing Development Finance Corporation (HDFC), the 69-year-old chartered accountant is on the board of several Indian and multinational corporations.
Gavaskar, who took over the reins of the BCCI after the apex court forced N Srinivasan to step down on March 28, did nothing of note in the fortnight gone by. But his decision to seek the services of Parekh is an absolute masterstroke.
"I am delighted that Deepak has accepted my invitation to come on board as a special advisor and special invitee to the Indian Premier League governing council," the former India captain said in a statement. "It is apt that an individual of the calibre of Mr Parekh will be joining the BCCI-IPL's leadership group. With a diverse combination of skills and experience, this appointment will result in a well-rounded senior management team at the IPL — one that will set the direction for a better and bigger league," he added.
Often hailed as a 'Crisis Man', Parekh will bring to the table his experience, acumen and integrity. His role in the revival of the scandal-hit Satyam Computers was laudable. A Padma Bhushan awardee, Parekh is excited about his new challenge. "Sunil visited me on Thursday and I agreed to come on board. I am avid cricket follower and have been watching the game for over 40 years," he told dna.
"Both of us went to St Xavier's High School (Dhobi Talao). He was junior to me by several years, but we all knew of him. I admired his batting. This (role) is just for four to six weeks. We have to ensure that these IPL games go off smoothly. When asked if he's played the game, Parekh said, "Who hasn't? Not at the national level, but certainly in school, college and my 'gully'."
For the first time in recent memory, the BCCI has brought in a complete 'outsider' into its fold. If nothing, this is a clear indication that the board has realised that the IPL needs a problem solver of repute and distinction. The catch here is that both Gavaskar and Parekh will be around till June 1, the day the seventh edition of the league concludes.
A firebrand former India skipper dubbed Gavaskar a "nightwatchman". "He has been given the job for four to six weeks. And now, he has sought the services of an eminent India Inc personality. Let's assume they take some positive and progressive steps. But what happens after the IPL. Do you think the people who run the show in the BCCI will implement these?" he thundered.
Moreover, Gavaskar is yet to take a call on the future of IPL chief executive Sundar Raman. In a letter to Aditya Verma, secretary of the unrecgonised Cricket Association of Bihar, Gavaskar said he was "evaluating" Raman's role. The IPL starts in less than four days and it is unlikely that Raman will be deplaned. For now, though, all eyes will be on Gavaskar and his new 'firefighter'.