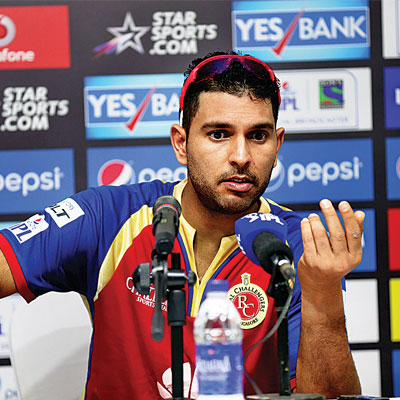 The bandwagon may have moved from Bangladesh to the UAE, but the awful memories of that 21-ball 11 against Sri Lanka are still haunting him. In fact, he has also failed to recover from the stinging criticism he received for flopping in the final of the World Twenty20. Perhaps, it has a lot to do with rioters pelting stones at his house. But even a swashbuckling 52 not out in his first match for the Royal Challengers Bangalore couldn't help. Yuvraj Singh is still sulking. Big time.
"The biggest problem with our country is that people forget what you have done in the past; they forget what the guys have done for their country. I am not sad; I am sad for those people who do such kind of things because if that's the way you want to treat people who have brought laurels for your country, it's their choice. I don't have much to say. It was not in good taste," Singh said after starring in a comprehensive win over the Delhi Daredevils in Sharjah on Thursday.
A lot was said and written about Singh's ineffectiveness in that crunch match against the Lankans. Why, they was even talk of his international future. "He's finished" was oft-repeated. Jokes on Vijay Mallya, who splashed Rs 14 crore on him at the IPL auction, were spreading like wild fire. But Singh is of the opinion that he's in the right team. "I thought I wanted to go to a place where I could express myself, and Virat (Kohli) and Zaheer Khan always told me that RCB is where you could come and play the way you want, because there are so many dynamic players over here. You don't have to worry about carrying on till the end alone," he said.
Lavishing praise on Kohli, who scored an unbeaten 49 in Thursday's win, Singh said, "Virat has grown up in front of my eyes and I have seen how his career has gone. I think he and I share a very good relationship on and off the field and I love batting with him. He is in such fine form. Now I hope I can continue with my form and contribute for my team."
Criticism towards Yuvraj unfair: Kohli
Royal Challengers Bangalore skipper Virat Kohli on Thursday said the criticism directed towards his India team-mate, Yuvraj Singh, for his performance in the recent World Twenty20 loss against Sri Lanka in Bangladesh was "unfair". "Yuvraj got criticism recently, it's unfair. He has won us two World Cups (2007 T20 and 2011 50-over), he's a proven match-winner and it's important to back a player like him," Kohli said after his side's eight-wicket win over Delhi Daredevils.
Mallya pleased with 'old vintage self' Yuvi
After splurging a mammoth Rs 14 crore to fetch his services, Royal Challengers Bangalore owner Vijay Mallya was immensely pleased with Yuvraj Singh for playing a crucial role in beating Delhi Daredevils in their IPL campaign opener. "What particularly pleased me was Yuvraj Singh coming back to his old vintage self. His strokeplay was magnificent," Mallya said in an interview with RCB's official website.