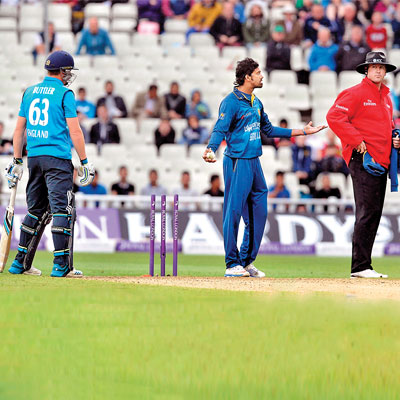 Law 42 of the Marylebone Cricket Club's Laws of Cricket talks of 'fair and unfair play'. Under this law is a section titled 'Bowler attempting to run out non-striker before delivery', the opening sentence of which states, "The bowler is permitted, before entering his delivery stride, to attempt to run out the non-striker."
Over the years, a lot has been said and written about bowlers who have 'Mankaded' non-strikers out for backing up too far. The latest episode, involving Sri Lankan off-spinner Sachithra Senanayake, who ran England's Jos Buttler out for backing up in the fifth and deciding ODI at Edgbaston on Tuesday, has triggered another controversy.
One can't fathom why the Englishmen are sobbing. Senanayake, already in the news for being reported for suspect action on Monday, was well within the laws of cricket in 'Mankading' Buttler. He was also well within the spirit of the game as he had warned the same batsman, who had scored a sparkling hundred at Lord's a couple of days ago, for backing up. Not once but twice.
In spite of repeated warnings, Buttler chose to back up again, perhaps hoping to take cover under the 'spirit of the game' umbrella. But with the game already heavily loaded in favour of the batsmen, non-strikers look to take some undue advantage by backing up when the bowler is in his run-up and delivery stride.
Strictly going by the laws, Senanayake was not required to warn Buttler at all. But that he chose to stop in his delivery stride in the second and fourth deliveries of the 42nd over to caution Buttler is is noteworthy. But when he realised that Buttler wasn't paying heed, Senanayake decided enough is enough and dislodged the bail.
The England think-tank and several former players have pointed fingers at Senanayake and his captain Angelo Mathews for not withdrawing the appeal. Why could they not pull up Buttler for backing up time and again?
This brings to mind an incident that occurred in the Ranji Trophy last season. Railways left-arm spinner Murali Kartik has been known to 'Mankad' batsmen not just in Indian domestic tournaments but also in the English county circuit. Kartik was in no mood to favour Bengal batsman Sandipan Das.
How can one forget an angry Kapil Dev 'Mankading' Peter Kirsten, the half-brother of India's World Cup-winning coach Gary Kirsten, during India's tour of South Africa in 1992? Moments after Kapil did so, after warning Kirsten that is, Kepler Wessels hit him on the shin while turning to take a second run.
While bowlers are being said to be unsportsmanlike for Mankading, why couldn't the same be said of those who are trying to take unfair advantage by backing up?