The 28-year-old doesn't just get the Norman Brookes Challenge Cup but also will leap frog Federer in Monday's ATP rankings.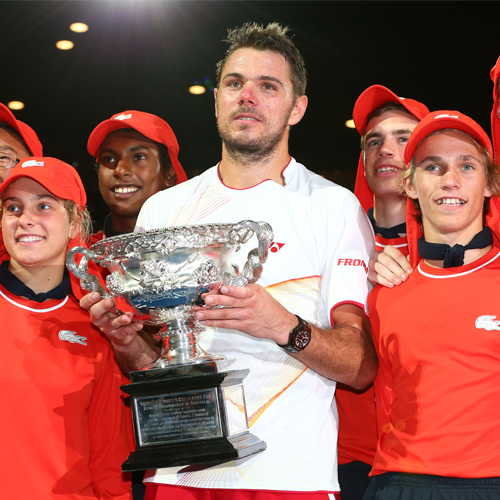 Not many people backed Stanislas Wawrinka to upset World No1 Rafael Nadal in the Australian Open final on Sunday. But cometh the hour, cometh the man and Stan was the man on the day.
The World No8 who had never taken a set of the Spanish tennis ace not just took off the opening two sets but also won the match in four sets.
While the talk about Nadal winning Grand Slam No14 was on Wawrinka who was playing the best tennis of his career as he beat defending champ Novak Djokovic on his way managed to show the same class as he deflated the top seed.
Nadal took some medical time out no, not to nurse his blister which was made a big deal but for his back. The 2009 Australian Open champion came back to win the third set but was unable to save the match.
Wawrinka joined Roger Federer whose shadow he has lived in through his career and Martina Hingis as Grand Slam champs from Switzerland.
This is the first title for the new Swiss No1 as on Monday when the ATP rankings come out, Wawrinka will rise to World No3 ahead of Federer. Nadal and Djokovic will remain No1 and 2 respectively.
The 28-year-old tennis star seems to have finally arrived on the tennis big stage as he along with Juan Martin del Potro who won the US Open some years ago is the only man beside Nadal, Federer, Djokovic and Andy Murray known as the big 4 to have won a Grand Slam.
See new champ Wawrinka's best shots from the tournament: