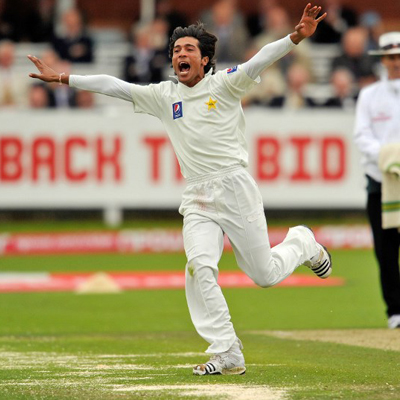 On Saturday, the Pakistan Cricket Board (PCB) announced that banned Pakistani fast bowler Mohammed Amir will not be eligible to play the 2015 World Cup, because his 5-year ban would be yet to conclude. However, the efforts to bring him back to domestic cricket early have begun.
Good bowlers are a rare breed in todays time. Good fast bowlers are rarer still and great bowlers are almost non-existent.
Mohammad Amir was perhaps of that breed which is almost non-existent. True, he was still making a name for himself, and yet his bowling was the talk of the town in the late 2000s.
Then he fell into the familiar pit of fixing - though it was spot-fixing - and his career spiralled into darkness.
With him, Mohammed Asif and Salman Butt also got bans of varying degrees. However, they received little or none of the empathy Amir received. He was classed as a boy who had gone astray, who had been misled by unscrupulous men and dreams of affluence.
Poverty does draw people to wicked things, and Amir's poverty could certainly be a factor in his erroneous decisions. However, an adult with the wherewithal of a brilliant fast bowler, who plays international cricket for a major cricketing nation, does not deserve this excuse.
Moreover, Amir was no novice to the rules of the game. He had been communicated the ICC's Code of Conduct by the PCB as well as at the National Cricket Academy in Lahore.
Though Salman Butt was the mastermind of the fixing plans, it was Amir who gave away several oppotunities to come clean. He even pleaded innocent during the ICC hearings in Doha. This was no naive, innocent child. This was a man driven to greed and consumed by it.
But can Mohammad Amir dream of a return to international cricket? He has already been declined a spot in the 2015 ODI World Cup, and the stigma attached to his act has not weakened thanks to the recent IPL betting and spot-fixing scandals, and the impropriety of certain high ranking individuals while handling it. The taint remains strong, though the domestic ban may be over soon.
In the past, cricketers have been banned for life for match fixing - cue Mohammed Azharuddin, Ajay Sharma and Salim Malik - or for so long that their careers were all but over - cue Ajay Jadeja. Though Azhar and Malik's bans were overturned, even their domestic careers were over by the time this happened. Some would argue that there is a difference between spot-fixing and match-fixing, that the former does not result in a loss for the team and therefore Amir must be given another chance on the international stage.
The problem with this argument is that it once again takes the emotional view of the matter - albeit unintentionally. True, world cricket needs champion fast bowlers - and true, Amir might have repented and he was very young when he did the act.
However, once bitten, twice shy. The current goings-on in the world of cricket do not bode well for a return of Amir. Where is the concrete proof that he would not once more succumb to the burgeoning business of betting and fixing, which is even more of a threat today than it was in 2010?
The evil doers would also find his return very attractive - he has the double advantage of being a brilliant bowler and being amenable to corrupt advances.
Moreover, bringing him back would set a bad example. If Amir is to be brought back, then Sreesanth deserves a return with honour, Jadeja and Co were unfairly done in and the 'indiscretions' of Mark Waugh and Shane Warne don't even deserve consideration.
The PCB's position on the issue - banking on amended ICC anti-corruption laws and appealing for a reduction in Amir's ban period of five years - is deplorable. The dirty net of betting and match-fixing has spread far and wide, by all indications. The money involved is huge, the players must be powerful and the officiating agencies have been proven to be toothless. No, Mohammad Amir does not deserve another chance at the international level.