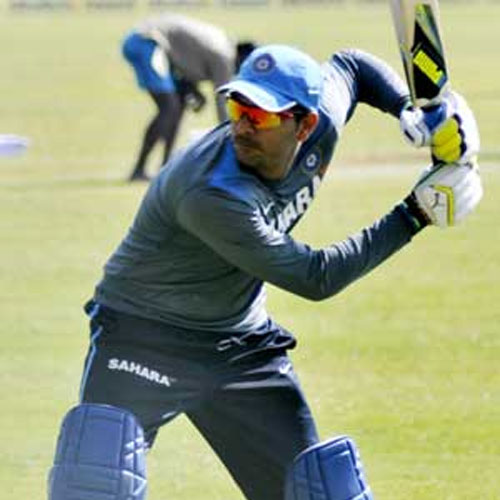 India's much-talked about tour of South Africa 2013-14 is all set to begin and the focus is on the young players who promise to be the face of Indian cricket for years to come. The young brigade has one immensely experienced player who finds himself at crossroads. Yuvraj Singh has been one of India's most valuable players in the last 13 years and is certainly one of the modern greats in One-Day Internationals. However, Yuvraj's role has diminished over the last few months and he needs to prove his worth yet again to stay in this young and vibrant team, opines Shrikant Shankar.
When Yuvraj Singh broke into the Indian team in 2000, he was a game changer — with his electrifying fielding and destructive batting down the order and as a more than useful bowler.
Yuvraj symbolised a vibrant new Indian approach. Over the years, India became a better fielding side and good at chasing big scores. A few hiccups were there along the way, but it all came together as he was at the forefront of the Indian team when they won the 2011 World Cup, in which Yuvraj was the mastermind.
But what followed was the toughest phase of his life — his battle with cancer. An entire nation prayed for his well-being and Yuvraj came back stronger – mentally. But age, the long journey in international cricket and even the effects of his dreaded disease he fought seems to have taken a toll on him. He is no longer the fielder he once was. He is still very athletic and good, but there are others who look fitter and sharper. India have suddenly got known for chasing improbable targets with talented cricketers like Virat Kohli, Rohit Sharma and Shikhar Dhawan taking the onus, along with skipper Mahendra Singh Dhoni. With passage of time, Yuvraj has become one of the elder statesmen — just a few days shy of celebrating his 32nd birthday.
The team looks high on confidence and the batting seems to be the strongest point. They won the ICC Champions Trophy 2013 without Yuvraj and the core of that squad is likely to play the 2015 World Cup in Australia and New Zealand. The bowling looks weak, but there is still time to iron out the flaws.
Yuvraj too, is in that category where lot of improvement needs to be made. The One-Day International (ODI) series against Australia was a run-fest for the batsmen. Almost everyone in the Indian batting order made merry and scored a lot of runs. Yuvraj did not. He scored a mere 19 runs in six innings. For a man who proved such a huge force as a bowler in the 2011 World Cup, Yuvraj is now almost unrecognisable. He has taken just two wickets after the World Cup and looks a spent force with the ball.
"Watch Free Live Streaming of India vs South Africa Series 2013"
The series with South Africa offers him another chance to prove his worth. He has only three ODIs to show the world what he has got as he is not a part of the Indian Test side. Given his advancing age and dodgy form, Yuvraj will be under huge pressure to perform — especially because there are challengers waiting to take his place in the side.
Someone who won the battle for life will know to conquer lesser challenges. And one can hope that Yuvraj Singh will prove his mettle and emerge a winner — yet again.
(Shrikant Shankar is a writer/reporter at CricketCountry.com. Previously he has done audio commentary for various matches involving India, Indian Premier League and Champions League Twenty20 for ESPNSTAR.com. You can follow him on Twitter @Shrikant_23)