Last day poised juicily with hosts needing another 320 to win while India will have to send back eight more batsmen to go one up in the series.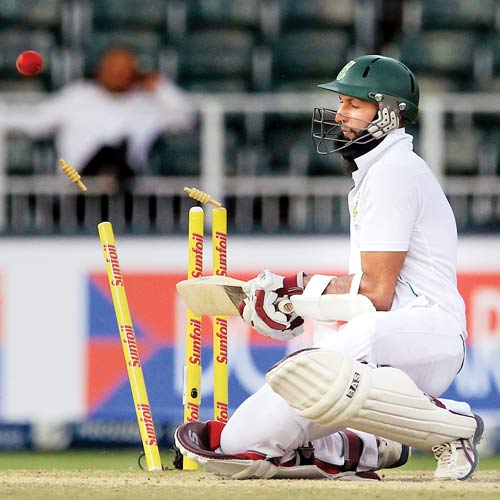 The Cambridge dictionary defines 'freakish' as "something very unusual or unexpected, especially in an unpleasant or strange way". With the Wanderers engulfed by clouds, with the light meter begging to be read and amidst fervent chants of 'Ganpati Bappa Morya', 'Ole, Ole, Ole, Ole' and what not, Mohammed Shami produced a jaffa. Or should we say Hashim Amla made it look like one? Well, judge for yourself.
A short-pitched delivery, it was a rather harmless one. On Day One, that ball would have soared over the batsman and thudded into MS Dhoni's gloves at some height. Amla ducked and brought his bat down but was guilty of taking his eyes off the ball. This was Day Four. Dotted with spike marks, patches and a few cracks, the pitch was offering variable bounce. All he managed was to create a barrier-free path for the ball to crash into the stumps. It beggared belief: the genial right-hander had fallen in bizarre fashion for the second time in the match.
There was more incredulity in the offing. With eight overs to go, it was Faf du Plessis who walked out to the middle. South Africa couldn't afford to expose Jacques Kallis, their most prolific but considerably off-colour batsman, to the Colosseum-like setting. Not when they were two down for 118. Not with the target being 458. Not with a full day to go.
In fading light and with the likes of Murali Vijay and Dhoni in operation, Alviro Petersen and du Plessis saw off the remaining overs with caution. The equation is simple: on Sunday, South Africa need 320 more runs to force a legacy-defining win. They will have 90 overs at their disposal. India need eight wickets. No side has ever chased more than 418 to win a Test match. Shave off 108 and you have the figure pertaining to this ground.
Petersen and Smith got the innings off in some style. On the offensive from the word go, the right-left duo knocked off 38 runs in the 11 overs before tea. After the break, Petersen reached his fifty off 74 balls, the knock studded with seven crisp boundaries. Going into the final drinks break, he had scored 60, double his skipper's tally.
There was still no respite for India. Smith drove R Ashwin through extra cover before collecting two boundaries off an Ishant Sharma over. But in Ashwin next, he committed hara-kiri. Coming down the wicket, he pushed the ball towards mid-on, called for the run and set off. To his misfortune, the fielder was the nimble-footed Ajinkya Rahane, not Zaheer Khan. A direct hit and India finally tasted success.
Earlier, India lost eight wickets for the addition of 137 runs. Resuming at 284/2 with centurion Cheteshwar Pujara and Virat Kohli in the middle, the visitors were bowled out for 421 about an hour after lunch. Pujara went on to complete his fourth 150-plus score in Test cricket, but Kohli fell short four short of what would have been his second hundred of the match and fourth Indian to register a hundred in both innings of a Test match. The rest got out trying to up the scoring rate.
But the knock that took the cake was Zaheer Khan's enterprising and unbeaten 29. A couple of lovely sixes over extra-cover and a few streaky fours off his willow swelled India's lead.
Wicketkeepers have a ball
With MS Dhoni deciding to roll his arm over on Saturday, it became the first time in Test history that wicketkeepers from both teams bowled in the same Test match. On Friday, South Africa's AB de Villiers bowled a solitary over for five runs, while Dhoni bowled two for four.