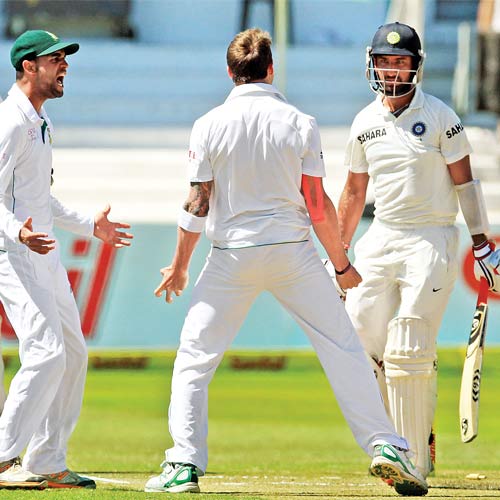 They didn't use any sobriquets. But they made a telling statement by donning jerseys, the back of which read: 'THE ONLY PLAYER TO SCORE 10,000 RUNS AND TAKE 200 WICKETS IN TEST CRICKET'. Enough said. Then, they gave him a lap of honour — partly on the shoulders of Graeme Smith and Morne Morkel, largely on foot. A jolly good fan even offered him a can of beer.
He took a big gulp. Then, he thanked everyone from his parents to coaches to teammates to girlfriends. Enough done? Nah, he deserved a grander party. Nevertheless, it was the perfect send-off for the perfect team man.
Yes, South Africa galloped to a 10-wicket victory on the final day of the second and deciding Test at Kingsmead. Yes, Dale Steyn was adjudged Man of the Match for his match haul of 9/147. Yes, MS Dhoni and Ravindra Jadeja played awful shots to hasten the completion of the perfect script. Yes, Ajinkya Rahane stood out with an elegant 96 to become India's find of the tour. Yes, India didn't register a single win on this tour. Yes, Dhoni and Duncan Fletcher presided over the team's ninth straight overseas loss.
But the day, much like the Test match, belonged to Jacques Henry Kallis. If not for his fighting 115 in the first innings, India would have left these shores with a commendable 0-0 scoreline against the world's No. 1 team. But it wasn't to be. After the humdinger in Johannesburg, where the Proteas came within eight runs of forcing a historic win, came the delight in Durban. Let's face it: the better team won.
Going into the fifth day, India had three options: bat, bat and bat. But they lasted no more than 50 overs. For the record, the visitors were bowled out for 223 in the second session, thereby setting South Africa a 59-run target. Forty-eight minutes is all it took Graeme Smith and Alviro Petersen to seal the deal.
Earlier, resuming at 68/2, India lost Virat Kohli and Cheteshwar Pujara, two of their most dependable batsmen on this tour, within the space of 15 deliveries. In fact, Kohli was adjudged caught behind off Steyn on the very first ball of the day. If not for India's hatred for DRS, Kohli would have stayed on and, perhaps, played a match-saving knock. It wasn't to be. By the way, replays showed that the ball had brushed his sleeve on its way to AB de Villiers.
DRS or no DRS, Pujara was a goner. It was a peach of a delivery from Steyn: fast, furious and full.
It seamed away just a little bit, beat Pujara's dead bat and that was that. Suddenly, India were 71/4. Rohit Sharma and Ajinkya Rahane did survive the test of fire; in fact, they even added 33 runs. But all this while, Steyn kept telling Sharma some hard truths. "I have more runs than you in this series," the pacer sledged. He went on, "You have done nothing in your career." Sharma retorted: "Let's see how you bowl in India."
A lapse in concentration saw Sharma lose his wicket to a Vernon Philander delivery that came back in. Plumb. Out. He was gone for 25. His total for the series: 45. Steyn scored 44 in this Test alone.
India could have still saved the game. But MS Dhoni and Ravindra Jadeja threw it away. At 154/7, an innings defeat was a possibility. But Rahane proved he was made of steel. India went into the lunch break at 173/7, only seven ahead.
After the break, Rahane farmed the strike on most occasions. He showed that he has matured as a batsman as he brought forth the quality that had turned VVS Laxman into a legend — ability to bat with the tail-enders. He kept the South African bowlers sweating it out even an hour after lunch.
Rahane also hit some delicious straight drives. A meaty cut off Philander fetched him six, but with Zaheer Khan becoming Peterson's fourth victim of the innings and Ishant Sharma giving Steyn his 350th Test wicket, Rahane attempted a slog against Philander, he lost his leg stump for 96.