India No. 1 tames Aleksandr Nedovyesov to win Challenger * Will meet del Potro in a couple of days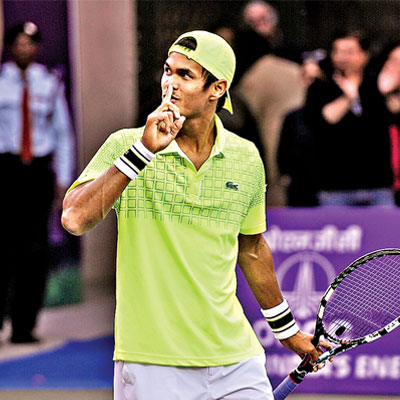 Somdev Devvarman toyed with top seed Aleksandr Nedovyesov to win the Delhi Open ATP Challenger title at the RK Khanna Tennis Stadium here on Sunday. He will now fly to Dubai to take part in the prestigious Dubai Duty Free Tennis Championships where Juan Martin del Potro awaits him in the first round.
Playing in front of over 3,000 spectators, Devvarman used his top spin to fizzle out Nedovyesov's challenge in just under an hour. The India No. 1 triumphed 6-3 6-1. The manner in which Devvarman dominated the match was evident from the fact that he conceded only 10 points in eight service games. And five out of this were conceded in the fifth game of the second set. The crown was Devvarman's first ATP Challenger title since 2010.
Both players held serve for the first six games. Nedovyesov started looking tired and used the drop shot quite often to avoid long rallies. Devvarman, who looked in trouble initially, soon took control and started stretching his opponent with deep-placed top spinners.
After this, Devvarman never allowed his opponent to settle in. Nedovyesov made several unforced errors and it only made life easier for Devvarman. After winning the first set 6-3, Devvarman broke his opponent twice to race to a 5-0 lead in the second. The Kazakh did get on the board with Devvarman sealed the deal quick enough.
Such was Devvarman's dominance that he won more than 90 per cent points on his first serve. Nedovyesov, on the other hand, was in complete awe of his opponent and failed to create a single break-point opportunity in the match.
"He (Aleksandr) is a fantastic player. He made it tough for me in the beginning. He's struggling with an injury. Best wishes to him," said an elated Devvarman. "It's incredible to see so many people around. Thanks to everyone for coming," he added.
Nedovyesov, ranked 92nd in the world, was all praise for Devvarman. "I don't want to make any excuses. Somdev is a good player. Congrats to him and good luck for the rest of the season. He played great tennis today. And I was tired and exhausted," he said.
On Saturday, the Indian duo of Saketh Myneni and Sanam Singh had done India proud by lifting the men's doubles crown. Ankita Raina narrowly missed out on the women's title.