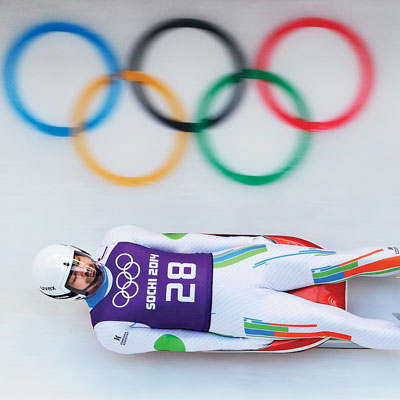 Two government officials are on an all-expenses paid junket to Sochi, Russia, to provide "moral support" to the three Indian athletes participating in the Winter Olympics there. Ironically, they are unlikely to mentor the athletes — Shiva Keshavan, Nadeem Iqbal and Himanshu Thakur — as the International Olympic Committee (IOC) has refused accreditation to them which would have ensured their boarding and lodging in the Games Village.
As a result, Sports Authority of India's director Team Wing Rajender Singh and under secretary in the sports ministry AK Patro will stay in expensive hotels outside the Village and buy tickets at higher rates to watch the Games from the spectators' gallery.
The Winter Olympics, held every four years, kick-started with a glittering opening ceremony on Friday. The Indian athletes had to walk under the flag of the IOC, and not the Tricolour, as the Indian Olympic Association (IOA) remains suspended by the IOC.
Despite the suspension, the sports ministry applied for accreditation for Singh and Patro. The ministry was informed well in advance that it was not possible to grant accreditation to them because of IOA's suspension from the Olympic family. Nevertheless, the two officials have reached Sochi. The government will foot their bills, including lodging, boarding and food expenses, during their stay there at the taxpayers' expense. What's worse, they won't be able to fulfil their responsibility of monitoring the performance of the athletes.
The Sports Authority of India (SAI), however, defends itself. "It is customary to send officials to such important Games to make sure that our athletes get all the support they deserve. If we had not sent them, people would have criticised us for not taking care of our athletes. And now that we have sent them, it's the other way round," SAI director general Jiji Thomson told dna."In fact, I was supposed to lead the delegation earlier, but because India has been suspended and there is no Tricolour, I decided to downsize the contingent and send these two officials instead," Thomson said.
While the government is at least showing concern by taking care of the expenses, the IOA has not even bothered to give the customary kit to Indian athletes. Hours before the opening ceremony, they were forced to arrange their uniforms from the available resources within their proximity.
Former sprinter and Clean Sports India office-bearer Ashwini Nachappa slammed the authorities for their "insensitivity". "It's a disgrace. They are not bothered about who is taking part and who is not. We had asked IOA to advance the elections (to avoid suspension), but nobody heard us. They are very arrogant people. But we should be proud of our athletes," she said.
No national flag at sporting event
In a major embarrassment for India, the three Indian athletes participating in the Winter Olympics had to walk under the flag of the International Olympic Committee, and not the Tricolour, as the Indian Olympic Association remains suspended from the Olympic family .