Scot keeps it simple and crushes Haase in three sets. Heatwave may force roof to be shut for clash with Sousa.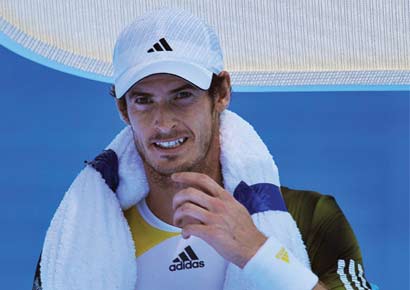 The pocket of hot air that has been hovering over the Australian interior since Christmas will finally arrive at Melbourne Park on Thursday, just as both Andy Murray and Laura Robson are scheduled to play their second-round matches.
January's unprecedented highs have forced the Australian Bureau of Meteorology to introduce a new colour - purple - to its heat graphs.
Tomorrow, those players unlucky enough to go on court in the middle of the day are also likely to turn a shade of puce as they battle with temperatures approaching 40C (104F).
The upside for both British players is that they are likely to be playing on the stadium courts. This means that if the referee decides to invoke the extreme heat rule, which causes tennis to be suspended on the outside courts, the roofs of Rod Laver Arena and HiSense Arena can be closed to make conditions more bearable.
Murray's opponent should be reasonably well adjusted to the heat. Joao Sousa, 23, is a clay-court specialist who trains in Barcelona.
The world No?100, Sousa is new to this level of competition: he beat Australian wild card John-Patrick Smith yesterday to record his first win at a grand slam. But an outing against Murray, who was in compelling form as he outclassed Robin Haase 6-3, 6-1, 6-3, will be a very different proposition.
"Andy probably feels confident about this match," said a deadpan Sousa, before admitting that he had only ever seen Rod Laver Arena from the outside. "They only let the top players practise there."
Sousa is Portuguese but moved his training base as a teenager to find better facilities and ended up working with Francisco Roig, who sometimes coaches Rafael Nadal. (Nadal, incidentally, confirmed that he is targeting the Sao Paulo clay-court tournament on February 11 for his comeback after eight months out with an injured knee.)
Roig, like most Spanish coaches, is a hard taskmaster. He once refused to drive Sousa back from a tournament when he felt his attitude was amiss, insisting that he get on the train instead.
The same unforgiving approach helped Murray in his own days as an junior in Barcelona, where he went as a 15 year-old to train at the Sanchez-Casal Academy. You could say that that was the beginning of the first part of his tennis career. But his victory in the US Open already seems to have kicked him on to a new phase. "I'd obviously been trying to win a grand slam for a long time," said Murray. "Now I can try to focus on the second part of my career."
The comment rang especially true because of the way Murray picked apart Haase's game with consummate ease, even though the Dutchman is highly talented and can launch winners from almost anywhere.
Two years ago, Murray lost the first two sets in a second-round meeting with Haase at the US Open, before a winning fightback. But this time he was efficiency itself as he broke Haase three times in the first set.
"The way he returned today from the start, that's the best you can get," said a chastened Haase. "I saw him in the locker room and I said, 'Well done with the first set', because he just started the match so well." Murray did play a few drop shots, but generally this was route-one tennis: crunching groundstrokes into the corners, forcing Haase to run until he lost the will to fight any more.
There was an indication on the very first point of the match that Murray had changed his whole approach. Haase, running to his right, sent up a high defensive forehand that landed near Murray's baseline. But rather than backing up and giving Haase an extra split second to move back into position, as he might have done in the past, Murray stepped in and took the ball on the half-volley.
Although on this occasion he pushed the ball long his intention was clear: to play close to the baseline and hurry Haase into errors. And as soon as he found his touch, the rest of the match could hardly have gone more smoothly.
Murray has spoken already this year about how he wants to simplify his game. For all the touch and variety he possesses, the most clinical way to dispose of lower-ranked opponents (Haase is the world No?53) on these slow-paced hard courts is to take the ball early, step into his groundstrokes, and make use of the fact that he is stronger and faster than almost anybody else on the ATP tour.
That is the way Novak Djokovic plays, and Djokovic has made a virtue of his supreme consistency over the past 12 months, reaching at least the semi-finals in 15 of the 17 tournaments he entered last year.
When the quality of opposition climbs, in the second weeks of grand slams, you start to see the leading players mixing up their games. But if Murray can maintain the brutal simplicity he displayed here, it will help him stay fitter and fresher in the long term. Especially when the mercury starts rising.