As has been the trend in the previous IPLs, change in leadership could do out-of-form player and the team a world of good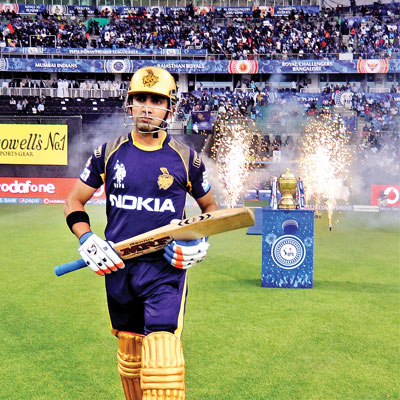 Mark Waugh was nicknamed 'Audi' after he scored four ducks in a row against Sri Lanka in 1992. However, Gautam Gambhir has been spared of that 'honour' when he scored his first run in his fourth innings this IPL.
It may have been a huge relief to get the monkey off his back but the Kolkata Knight Riders captain has been woefully out of form in this highly competitive league.
Gambhir dropped himself to No. 3 in the fourth match against Kings XI Punjab after falling for three successive zeroes as an opener. But the result was no better. He scored one after facing five balls and was out while going for his shot against young seamer Sandeep Sharma. His intentions of hitting over the covers saw him offer short extra cover fielder Akshar Patel.
The Delhi batsman's failure to score has started affecting his team as well. Going into their fifth match on Tuesday against Rajasthan Royals, KKR have won two – against Mumbai Indians and Royal Challengers Bangalore – and suffered two defeats – to Delhi Daredevils and Kings XI Punjab. They are in the middle of the points table with four points. More defeats in the future could hamper their chances of making it to the play-offs.
It could be one matter that Gambhir may be affected by the pressures of captaincy. As others have done in this league in the past, breaking free from the reins and concentrating on his batting could reverse his fortunes for the better.
Being an intense tournament where individual performances matters a lot, IPL franchises, who have invested heavily in the team, don't want to be an also-rans in the tournament and expect a lot from the captains as well.
Last year, Australian Ricky Ponting was named Mumbai Indians skipper. But after a few failures, he made way for Rohit Sharma to lead the side. And how! Sharma guided his side to their maiden IPL triumph.
In the past, Kumar Sangakkara stepped aside and let Cameron White lead Deccan Chargers (in 2012) and Sunrisers Hyderabad (in 2013) in successive years since he was not performing and did not want to block a performing batsman's place.
David Hussey came in place of an out-of-form Adam Gilchrist for Kings XI Punjab while Angelo Mathews was replaced by Aaron Finch for Sahara Pune Warriors. However, the biggest of them all was one of India's most successful captains, Sourav Ganguly who was replaced by Steven Smith in 2012 IPL.
Similarly, should Gambhir follow suit and make way for somebody else who could get some runs? Or should he step aside and concentrate on his batting?
"The format is such that you have to make decisions quickly. There is a different kind of pressure on the captain. If a player is not in form, then the basic plan is not executed and the blame comes on him. The captain has to be smart and take decisions at the right time. However, if the captain is not in form then it becomes difficult," said former India cricketer Praveen Amre, who was also the batting coach of the Pune Warriors. Amre was with Pune Warriors when Smith took over the captaincy while Ganguly watched from the bench in 2012 and Finch take over from Mathews the next year.
"Captains are basically good players but there are a lot of expectations. Every match matters to the franchises and they can't afford too many defeats. Players are always under scrutiny. For someone like Rohit, captaincy makes him strong and positive, helping him to deliver," he added.
Amre was of the view that Gambhir, too, should do the same. "He is a batsman first, then a captain. He is a quality player and should relinquish captaincy to concentrate on his game. The whole equation will change as he will be completely off pressure and can enjoy his game again," said Amre.