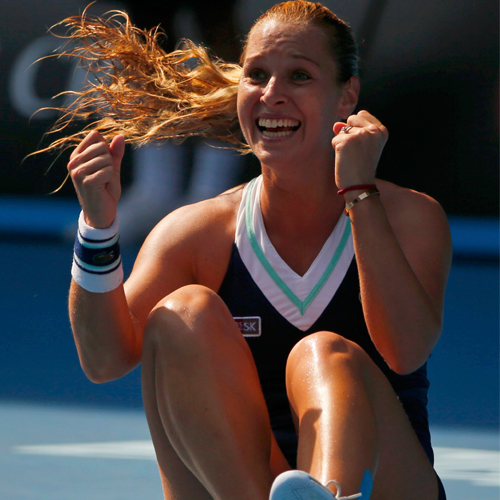 Slovakia's Dominika Cibulkova, who is a rarity in women's tennis with her comparatively shorter 5-foot-3-inch height, has said that size does not bother her as she believes it is not important for winning matches.
Cibulkova thumped Agnieszka Radwanska in the Australian Open women's semifinals to move one match away from becoming the joint shortest Grand Slam singles winner in the Open Era since Nancy Richey and Mima Jausovec, who claimed the 1968 French Open and 1977 French Open respectively.
According to CNN, Cibulkova needed a mere one hour, 10 minutes to dispose of the taller world No. 5, winning 6-1 6-2 to set up an encounter against now three-time Australian Open finalist Li Na, who has not lost to Cibulkova in their four outings.
Cibulkova said that it does not matter how tall a player is while winning a tournament, adding that it is important to have belief in oneself, which can make great inroads in the player's career.
According to seven-time tour winner Chanda Rubin, Cibulkova limits weaknesses and generates ample power, although she admitted that it is difficult at times for a shorter player as she has to cover a lot more ground and be quicker than a taller player does.
Rubin also said that Cibulkova has been able to get to this level as she minimized her deficiencies and made full use of her special skills including speed, the ability to create a little extra power and her competing ability.
The report further said that Cibulkova owns a 3-3 record against the 6' 2" Sharapova, has downed world No. 2 Victoria Azarenka twice and tallied 11 of the first 14 games against the Belorussian in Miami in 2012 before nerves intervened, the report added.