The way Dhawan batted on his debut Test, he looked like a left-handed incarnation of Viru.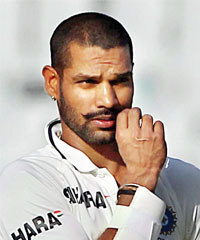 The occasion dates back to November 16, 2004. Delhi's skipper Ajay Jadeja patted the shoulder of a young player about to make his Ranji debut against Andhra at the Roshanara Club Ground in the Capital. Jadeja offered a simple advice — play your natural game.
That boy Shikhar Dhawan, now 27, hasn't forgotten those words. Records tumbled in Mohali as Dhawan, unbeaten on 185, made the highest Test score by an Indian on debut.
Back to 2004. In the absence of the two regular openers, Virender Sehwag and Gautam Gambhir, it was a challenge for the Delhi team to find an opener to partner Aakash Chopra.
Dhawan belied the impression of being a debutant. True, the Roshanara Club Ground is a batting paradise. But pacers do benefit from the green setting.
With the early morning wind beating their backs, the two Andhra pacers, KS Sahabuddin and D Kalyankrishna, hurled the short stuff at both the Delhi openers. Dhawan, much to everyone's surprise, showed nerves of steel and unmistakable confidence. He was severe on anything short of length.
It was such a joy to watch this U-19 World Cup star graduate to the next level.
Most of Delhi's runs were coming off Dhawan's blade.
Jadeja was relieved to have found an opener for the season. A loose stroke brought his innings to an abrupt end — he edged one behind on 49. A furious Jadeja held his head in disbelief. "What an immature shot," he fumed. "He is going to get many centuries but will never get another chance to score one on debut," Jadeja told this correspondent. Perhaps, Dhawan too knew what he had just lost.
Who would have thought that greater days awaited him? First, it was Sachin Tendulkar who gave him his Test cap on Friday. And when he walked back to the dressing room, he ran into Yoginder Puri, a Chandigarh-based coach. "Shikhar, you are very lucky to have not played this day. You will not witness the same amount of movement or spin in the coming days," Puri said.
And so, exactly eight years and four months after his first game for Delhi, on another 16th, Dhawan registered himself in the pages of history with an unimaginable knock. The way he batted, he looked like a left-handed incarnation of Virender Sehwag.
It's been a roller-coaster ride in the last eight years. He had few opportunities to break into an Indian team that had a star-studded line-up. When he finally got the chance in the ODIs in the West Indies in 2010, he couldn't bring out his A-game on the bad pitches there.
A lot has changed since then, both on the personal and professional front. He chose to marry a Melbourne-based Bengali mother of two, some four months back.
And as a batsman, he has admitted that he "is more mature now and can handle pressure." The selectors deserve credit for the bold decision. It could be deemed as a masterstroke even. Had he failed, the debate on Sehwag and Gautam Gambhir's exclusion would have continued ad nauseam. With Murali Vijay also in splendid touch, India's opening pair for the tour of South Africa may not be the talking point anymore.
@shekharluthra