Veteran batsman hands over one-wicket defeat to India, almost showing Virat Kohli and Co the door; Pakistan chase down 246-target in final over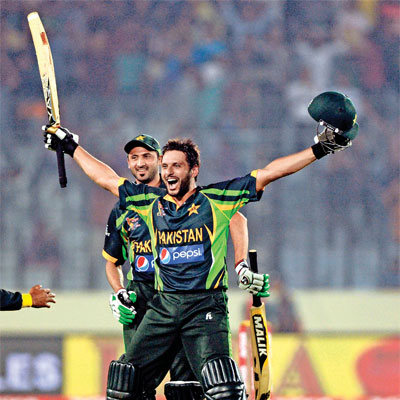 All the good work of spinners R Ashwin and Amit Mishra, who combined to bring India back into the game, went in vain by that one man, Shahid Afridi. Brutal hitting by the 34-year-old Afridi in the last over sent down by Ashwin in which 10 were needed, sent Virat Kohli's young team virtually out of the Asia Cup.
Yes, it is all but over for India in this campaign as they have four points from three matches and with only Afghanistan to play in the last league on Wednesday. Pakistan move to nine points while Lanka, with two wins from as many games, have eight. In the highly unlikely event of Sri Lanka losing both their remaining matches to Afghanistan and Bangladesh, and India winning against Afghanistan by a bonus, Kohli's side have a mathematical chance of making the final.
On Sunday, India ought to have posted more than the 245/8 after being put in to bat. An additional 20 or 25 runs would have seen India on the right side of the result.
India, who seemed to have lost it in the middle overs when the fifth-wicket duo of Mohammad Hafeez and Sohaib Maqsood raised 87 and put Pakistan on course, came back into reckoning and keeping alive their Cup hopes.
Even as Afridi, walking in at No. 7 when his team needed another 46 needed in 39 deliveries, lost partners, he showed his strength by hitting the ball beyond the Indian fielders' reach. His last two winnings hits, both not off the meat of the bat, one over deep extra cover and the knock-out blow over long on when it seemed that it was going to be a catch, brought an end to another high-voltage India-Pakistan clash that had all the ingredients that you associate when the two teams clash. Just that the Indian fans were a disappointed lot.
Afridi, no doubt emerged Pakistan's hero with his 18-ball unbeaten 34 that had two fours and three sixes. However, the platform for the Pakistan win was laid by fifth-wicket stand of Hafeez and Maqsood. They maintained calm even as the asking rate was six-plus. India had themselves to blame, or Dinesh Karthik in particular, as the gloveman missed a stumping chance for the second successive game. In the 38th over, Maqsood, on 21 and Pakistan needing another 79 to win, stepped out to Ashwin and missed to connect the ball that went down leg side. Karthik failed to collect and dislodge the bails, giving the arch rivals a much-needed breather.
Hafeez, who was named man of the match for his 75, took it upon himself to see Pakistan safe. Guilty of running his captain out after Haq responded to a call and was halfway down the pitch when he was sent back by striker Hafeez. It was too late before Haq could return and regain his as Ravindra Jadeja's throw to Amit Mishra at the non-striker's end spot on. Haq was run out for no fault of his for the second straight innings.
After Hafeez pulled Shami over square leg for a six, it seemed like that Pakistan were cruising to victory. However, drama unfolded when Ashwin got rid of the Pakistan top-scorer, who went in the same vein and swept straight down Bhuvneshwar Kumar's throat at deep square leg. In the next over, there was confusion galore between Maqsood and Afridi when the latter sent back the striker after almost coming within hand-shaking distance, Karthik making no mistake in gathering the throw from Ashwin at mid-wicket and uprooting the stumps, much to stumper's relief.
With two new batsmen in the middle in the middle and the asking rate climbing upwards of 8, India had done well to come back into the game. Amit Mishra, getting a game after warming the bench for most of the matches as India went with three spinners, was the most impressive, picking up two for 28 and in tandem with Ashwin, checked the Pakistan top-order. But with Afridi going bang bang, any amount of containing the Pakistan would have gone meaningless.