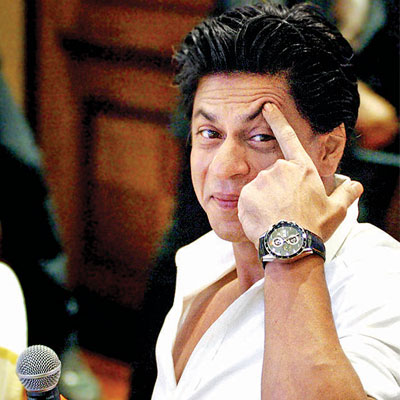 Kolkata Knight Riders has seen the ups in Indian Premier League after hitting the rock bottom over the years. One constant face has been Shah Rukh Khan, who has constantly supported his players through thick and thin. The ace Bollywood star, owner of KKR, is now ready to spread his wings and support other sports in the country.
Football and Motorsports are in his ideas. "Sport does matter and it is my big desire to have a team for the football league in Kolkata," Khan said at a gathering to launch a documentary on the IPL team, Living With KKR, that will be aired on Discovery Channel from February 24-27.
"We are looking at providing a building block for the kids in the country. We are looking at an area to provide a platform for them where they can showcase their skills, and with hard work, look to turn into professionals," Khan said. "We were also keen on getting into F1 but in our country we have lack of resources for this. So, for now we are looking at two more sports besides cricket."
A glimpse at the documentary made Khan emotional. "The documentary is about heartbreak and triumph. Initially, we thought KKR would conquer all in its way. But the next four years we have lived through the process of being in cricket and, like in life, we have been through the adversities. In that phase, we have lived a compressed life of sporting world. We have finally won and learnt to continue to try hard. It's been a great learning experience."
Khan said that despite nine consecutive losses in the inaugural IPL in 2008, he kept faith in his players. "People will have some kind of solace when they see this story. If I have to live this once again in life, maybe we will cry over all again. This is very personal to me. Besides, if you don't win, no one makes a documentary on you! Yes, winning does matter and it is everything life is about with no underhand tactics."
KKR, who had retained skipper Gautam Gambhir and West Indian Sunil Narine, bought a couple of big-hitting Indians in Robin Uthappa and Yusuf Pathan at the recent auction. "We were keen on going for youngsters to a large extent. We wanted Yuvraj Singh but we got Robin Uthappa and we are happy. Also, on the whole we wanted more Indian players in the team. About overseas players we were looking at the three main ones and shift around the fourth one," Khan said.
He maintained that KKR is not up for sale. "We look at long-term business and never get into anything for short-term gains. There was a time when we made profits from the IPL but were desperate for the team to win. Now that we have won, we want to win also and make the profits too. We will never sell KKR. We shall not seek a bail out either. This team is for keeps. Now that we have won also, the monkey is off our back."