The German F1 World Champion will use No1 till he loses his title. The FIA ruled that No1 would be reserved for the champion and he could choose to use that or his chosen number.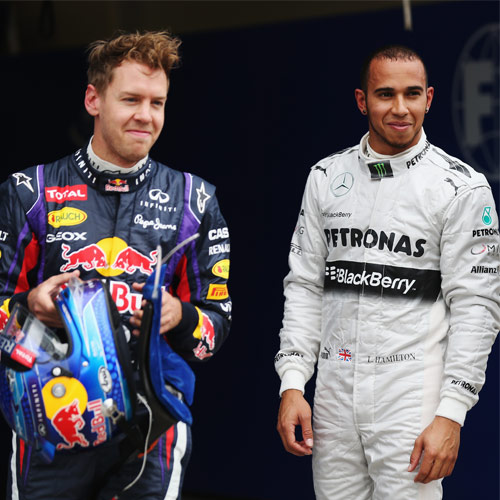 The 2014 F1 season may be away by a couple of months and the cars are still in innovation mode but the driver's have all made their choice of numbers for next season.
According to one of the new rules of the sport, drivers get to choose their numbers and the allotment system will be stopped from this year.
No1 will be reserved for the F1 World Champion of the previous season who has a choice about whether he wants to use it or not but no one else can take the number.
Current F1 champion Sebastian Vettel will use No1 on his car this season but if he is unable to defend his title and has to let go of the number he has opted for No5.
The drivers have to use the numbers they have chosen for the rest of their careers. The new rule has been agreed upon to help the sport commercialise the drivers. All drivers were asked to submit three numbers in order of preference and any clashes were decided by last year's drivers' championship standings.
Keeping this in mind former F1 champion Lewis Hamilton has opted for No44, Ferrari's Fernando Alonso has chosen 14, while Kimi Raikkonen took 7. Jenson Button who rounds up the champs on the grid will be No22.
Force India's Nico Hulkenberg took No27 while his teammate Sergio Perez will use No11.
Here are the list of other drivers and their numbers:

3. Daniel Ricciardo
6. Nico Rosberg
8. Romain Grosjean
13. Pastor Maldonado
20. Kevin Magnussen
99. Adrian Sutil
21. Esteban Gutierrez
25. Jean Eric Vergne
26. Daniel Kvyat
19. Felipe Massa
77. Valtteri Bottas
17. Jules Bianchi
Max Chilton who was just confirmed by his team yesterday, has not yet chosen his number and the Caterham team have yet to announce their driver line up.
As F1 fans wait for the five red lights of the 2014 F1 season to illuminate, the testing will start soon showing off the new cars and drivers in action as they tweak the new challengers for race and championship wins.