Cricket board chief to quit, His clique runs for cover, Shivlal Yadav may take over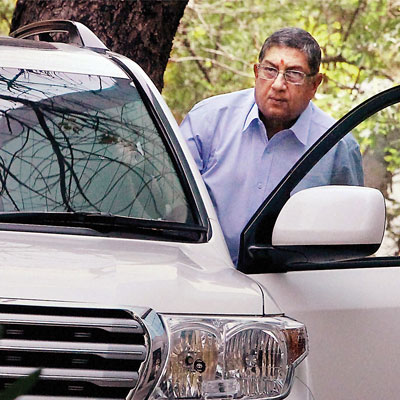 Expressing shock over the revelations in the report submitted by the justice Mukul Mudgal committee in a "sealed envelope", the Supreme Court on Tuesday asked BCCI president N Srinivasan to step down to ensure a fair investigation into the IPL corruption saga.
A bench of justices AN Patnaik and FM Ibrahim Kalifulla fumed at senior counsel Ariama Sundaram, who also counts Subrata Roy Sahara among his clients. "You ask Mr Srinivasan to step down, otherwise we will give our verdict asking him to step down," the bench said.
The judges, who made their way into the jam-packed courtroom at 10:30am, expressed anguish over Srinivasan's refusal to give up his position. More so after his son-in-law Gurunath Meiyappan was found to be involved in betting-related activities during his time as team principal of IPL franchise Chennai Super Kings, owned by Srinivasan's company, India Cements Ltd.
"Why are you (Srinivasan) still there? Why don't you step down? It is so nauseating," the bench fumed. It also rejected all arguments of the BCCI, including Srinivasan's decision to appoint a committee to look into the IPL fiasco. The bench dismissed Sundaram's submission that the Supreme Court-appointed panel (Mukul Mudgal committee) enjoyed all the benefits, including the right to record the statement of police officials. Conversely, the BCCI-appointed panel, which comprised two retired judges, did not have these benefits at the time of primary investigation. For the record, the BCCI-appointed committee had given Meiyappan a clean chit.
What must be hitting Srinivasan harder is that three out of five vice-presidents in the cricket board are now raising their voices against him.
Shivlal Yadav, Ravi Savant and Chitrak Mitra have all said that Srinivasan must abide by what the Supreme Court says.
So what next for Srinivasan?
As of now, the BCCI has not called for any meeting. Srinivasan is tight-lipped, secretary Sanjay Patel has cut short his Asian Cricket Council meeting and rushed back to Chennai and IPL chairman Ranjib Biswal has left for the UAE where the first leg of IPL 7 will be staged.
"We have 48 hours. Srinivasan may resign on Wednesday," an insider said. In fact, senior BCCI officials did not hesitate to toe the Supreme Court's line on Tuesday. "The BCCI must abide by the observation," said Yadav, vice president (South Zone). In fact, Yadav is tipped to take over as interim president.
Also, this could well be the end of Srinivasan's dream of taking over as chairman of the International Cricket Council, which underwent administrative and financial "reforms" recently. Srinivasan joined hands with Cricket Australia and the England and Wales Cricket Board to form 'The Big Three', which would effectively run world cricket.
"This is a domestic matter of the BCCI and the ICC has no comment to offer at this stage," ICC media manager Sami-ul-Hasan said. ICC CEO Dave Richardson, who had expressed delight over the BCCI's decision to host the IPL in the UAE, made no official comment on Tuesday.
Secretary of Cricket Association of Bihar (CAB) Aditya Verma, on whose pursuance the matter has reached where it is now, told dna that "there is no escape route left for Srinivasan".
"I was confident that the honourable court will open the sealed envelope today. And with this, there is no way that Srinivasan can escape now. Not just he, but his team CSK and other corrupt teams should be scrapped from the IPL. Our stand has been vindicated and people should understand that cricket is being damaged by these corrupt administrators for their personal use," said Verma.
IPL in jeopardy
A BCCI office-bearer who is also associated with the IPL governing body said the IPL Season VII this year could be given a miss in order to clear the muck. What's worse is that franchises Chennai Super Kings and Rajasthan Royals can be terminated.
Way ahead for Srini
He is likely to quit today. With board members voicing their dissent, he may find it difficult to claw back to the top of Indian cricket board again. "If he doesn't step down, it will be our responsibility to save the game of cricket from further embarrassment," an official said.