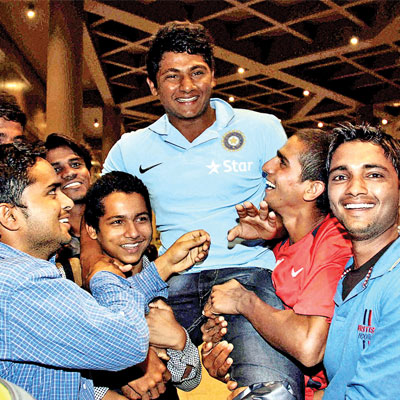 Sarfaraz Khan can do no wrong these days. India may have finished a poor fifth in the ICC Under-19 World Cup in the UAE, but the fortunes of the 16-year-old from Mumbai are heading north.
Barely an hour before Khan landed in the city after a fruitful campaign in the Gulf kingdom (six matches, 211 runs, one wicket and eight catches), the Mumbai Cricket Association announced that the talented middle-order batsman had been included in the Mumbai squad for the Vijay Hazare Trophy (West Zone) matches in Rajkot. The domestic giants have already lost to Baroda and Gujarat and will now take on Saurashtra and Maharashtra on March 2 and 3.
It's been more than a quarter century since Sachin Tendulkar played for Mumbai at the age of 15. Khan may have to wait for a few months before making his first-class debut, but featuring in the Ranji one-dayers as a Std IX student is no joke either.
Khan is a bundle of energy. He may have been away from home for well over a month, but there was no chance of him giving up on the opportunity to play for Mumbai. "He is desperate to play," MCA secretary Nitin Dalal said. "He landed around 8:00 pm today (Friday) and will fly to Rajkot at 5:00 am tomorrow (Saturday). The boy is full of energy. I hope the coach (Lalchand Rajput) gives him a chance," Dalal added.
Khan was given a hero's welcome at the airport. Later, he feasted on chicken biryani at his Kurla home. "Jashn ka mahaul hai (it's a festival out here)," proud father Naushad said. Khan did reveal to his friends that he cried a lot after India lost to England in the quarterfinal. "But I am only 16. I have another chance. And I will make it count," Khan told his friends.