Having dazzled as a rookie in the previous edition, Kerala's wicket-keeper batsman now will be in spotlight and with more burden on his young shoulders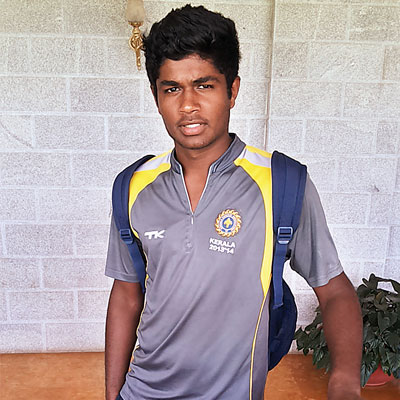 There is a sense of calmness around Sanju Samson, the youngest to score an IPL half-century last year. Even while facing bowlers, he maintains composure, reads the situation and bats accordingly.
This characteristic of the right-handed batsman and wicket-keeper from Kerala was in full display on Thursday at the MCA-BKC ground when he went about punishing the Rajasthan bowlers in a manner that had grace and power. There was a touch of elegance as he made 68 off just 39 deliveries with six fours and seven sixes. His knock, though, was not enough as Rajasthan chased Kerala's 172/3 in the match's penultimate over.
This was an ideal preparation ahead of the IPL, for which Rajasthan Royals are learnt to leave for the UAE on April 14. Will Samsom repeat his feat of 2013, when he caught the eye with some attractive innings, earning lavish praise from none other than Rahul Dravid, then captain and now mentor?
He has become more mature with age and experience of playing first-class while also being a senior member of the recent ICC U-19 World Cup in UAE. His knowledge of the UAE conditions will help him and his team in the first leg of IPL.
"The Mushtaq Ali Trophy matches before the IPL is good for any player. It has been good for me too. I wanted to play for my team, Kerala, and the Rajasthan Royals management allowed me to play," Samson said on Thursday.
"Last year's IPL was really good for me," he said. He scored 206 runs in 10 innings with a highest of 63 and a strike rate of 115.73. "I want to improve as a cricketer and would like to finish much more games than I did last year," he said.
Though he may have averaged only 25.75, it was his ability to stitch useful partnerships with the established batsmen and his fearlessness to take on some of the leading bowlers in the world that has made everyone look at him with interest.
He is making the most of sharing the dressing room with some of the big names in world cricket including Shane Watson, Brad Hodge and of course Dravid. "The two months in IPL are very important period of the year for any cricketer. I utilised it very well last year and this time also I'd like to learn much more from the experienced cricketers.
"We get to know what our team-mates are doing, how they prepare for a match, how they appear for practice. We can learn a lot by watching and listening them closely. That is how I have learned many things.
Though, one cannot be sure about the runs I score or the results but it will make me a better cricketer," Samson said.
With many calling his as a bright prospect to play for the senior Indian team one day, Samson is not looking that far. "I don't like to set long-term goals. Now my goal is to prepare well for the IPL. Looking at the future does not help anyone. I like to stay in the present and focus on the job on hand," said Samson, who enjoys playing football and spending time with friends and family when he is not playing cricket.
Playing today:
In Mumbai: Baroda vs Rajasthan at Wankhede Stadium; Kerala vs Bengal at MCA-BKC (both 9.30am)
In Rajkot: Gujarat vs UP (9.30am); Goa vs Jharkhand (1.30pm)
'We miss Sreesanth in Kerala dressing room'
Mumbai: It is no secret how Sanju Samson, came to the limelight. The man responsible for landing him an IPL contract with Rajasthan Royals, Shanthakumaran Sreesanth, is now disgraced and banned for life by BCCI for his involvement in spot-fixing in the league.
Samson said that the Kerala team misses Sreesanth. "Sreebhai has helped a lot of people in this Kerala side. Whenever he came to the side (in the past), there used to be a lot of positive energy withing the team. Everyone knows it was Sree who took me to the Rajasthan Royals trials and from there my career started to rise. We all miss him a lot in the Kerala side," Samson said.