India escape embarrassment as defending champions Australia take it easy after sealing the match in first 22 minutes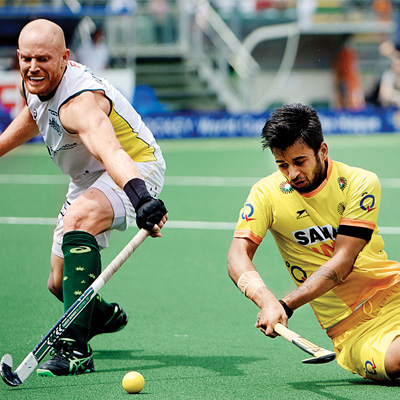 Twenty two minutes into the first half, the defending champions Australia were 4-0 up. As visions of a mauling began appearing before the Indians, the Australians eased the pressure and scored no more. So, India were left with, in the circumstances, a face-saving defeat, if there is anything like that, at 0-4.
That concluded India's league engagements, with one win and one draw and three defeats for a total of four points. With Spain thrashing Malaysia in the next match of Group A, India slipped to fifth in the Pool and as a result will be left to play the ninth-10th place match. Their opponents will be either Korea or South Africa, currently occupying fifth and sixth places in Pool B.
While Australia will sail through as toppers, the second place will be decided after the last match between Belgium (9 points) and England (7 points).
A whirlwind start, as only the Australians can put on display, gave them the lead in the third minute after missing a chance in the first. Kieran Govers opened the scoring and in the 16th minute Chris Ciriello converted the first of the three Australians scored off on the day.
Jeremy Hayward added the third in the 20th off another penalty corner and two minutes later Ciriello made it 4-0 with another precise conversion. The game was only 22 minutes old. The Indians must have feared the worst.
But in the rather hot weather, the Australians preferred to relax somewhat after that. With just around seven minutes left for the first half to finish, Mark Knowles crashed into SV Sunil he seemed to have injured his neck and was stretchered off, and then it seemed the Australians assured of medal matches were more keen on keeping their star players intact for battles ahead.
Of Knowles, Aussie coach Ric Charlesworth said: "At the moment I don't know what the situation is. He will be assessed, but I hope he will be back for the semi-final."
It was only in the second half that the Indians seemed present on the field. Rupinder Singh and Sardar Singh, who tirelessly kept making moves for his teammates gave India a few chances but they went abegging.
Sunil was quick to make the moves, but as coach Terry Walsh later said, "He is a playmaker, not a scorer." There was no one to latch on to his crosses and through balls.
In Pool B, The Netherlands are through from Pool B as toppers, while the outcome of the Germany-Korea match and the Argentina-South Africa clash will decide the second qualifiers.
Stopwatch: Men: Australia 4 (K Govers 3, C Cirlello 16, 22, J Hayward 20) bt India 0, Spain 5 bt Malaysia 2
Women: New Zealand 0 drew with Australia 0, The Netherlands 3 bt Korea 0
Playing today
Men: Argentina vs SA (2pm), Germany vs Korea (4pm), NZ vs The Netherlands (11.15pm)
Live on Ten Sports
Women: USA vs SA (6pm), Germany vs England (9.30pm), Argentina vs China (9pm)