Sardar Singh & Co high on confidence after legendary cricketer spends two hours with the Indian team and gives pep talk on the eve of its departure to Hague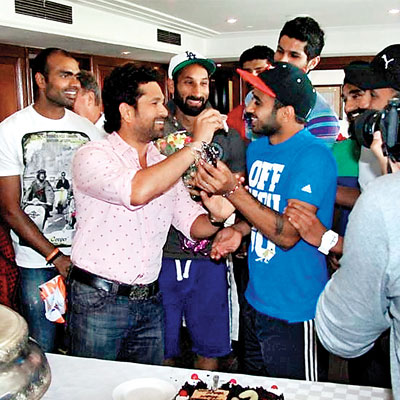 He came, he saw, he motivated.
A day before the Indian hockey squad was to leave for the 2014 World Cup to be held in The Hague, The Netherlands, legendary cricketer Sachin Tendulkar paid a visit to the team that is camping in New Delhi to give them some much-needed pep talk.
Pep talk he did give, and how! Tendulkar spent nearly two hours with the entire national team, talking to them about how it feels to play in the World Cup, the pressures associated with it, his personal experiences in cricket and life in general. He was at his humorous best, and had the players in splits with his anecdotes.
Manpreet Singh, the 21-year-old midfielder who had never met Tendulkar before, said about Tendulkar's visit: "It was one of the most interesting interactions I have had in my life. Besides telling us about how it feels to represent the nation in a World Cup, Sachin paaji told us about the various injuries he had to cope with and how he handled them, which is very important for us hockey players. He also gave us tips on how to handle pressure associated with such a big tournament and how to approach every game."
Manpreet, who grew up idolising Tendulkar, said he only asked one question to the 41-year-old. Notorious for playing pranks within the team, Manpreet wanted to know if Tendulkar too was a prankster with his seniors around when he walked into the Indian team as a 16-year-old. And the response, he says, was typical of Sachin paaji.
"He told me that he was also a very big prankster, even as a kid making his debut. He told his seniors that if they play pranks on him, he too would do the same. He told me never to be serious when you're away from the game," Manpreet laughed.
Another question that came up was how Tendulkar felt after getting his 100th hundred in international cricket. "He told us, 'Well, I had got 99 before, so the feeling was not that different'," said Manpreet, adding that it showed the humility of the man.
It was skipper Sardar Singh, who requested Tendulkar a few days back to meet the squad. Manpreet felt that meeting the Little Master had taken the team's energy levels to a new high just a day before departing for the World Cup, which is scheduled to begin on May 31.
"Tendulkar's presence and his words have doubled our energy levels going into the World Cup. All the members of the team are now more confident and positive," he said.