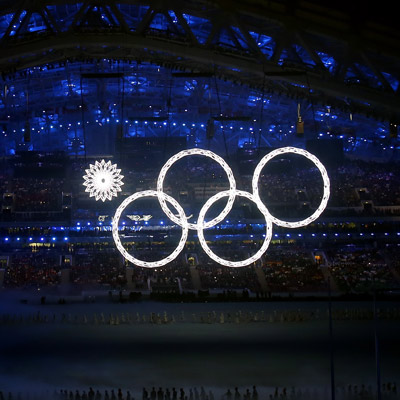 The Russian state television had reportedly aired pre-recorded footage of five floating snowflakes turning into the Olympic rings during the opening ceremony of the Sochi Olympics, when in reality the fifth ring stick and only an 'asterisk' remained due to a malfunction.
The opening ceremony at the 2014 Winter Games hit a bump when only four of the five rings materialized in a wintry opening scene instead of all five joining together and erupting into pyrotechnics.
However, ABC News reports that the Russian host broadcaster Rossiya 1 cut away to rehearsal footage, where all five rings came together and the fireworks exploded on cue, as the fifth ring got stuck.
French ski great Jean Claude-Killy, who heads the IOC coordination commission for the Sochi Games, was thankful that the glitch did not show on TV while producers of the channel confirmed the switch, saying it was important to preserve the imagery of the Olympic symbols.
Executive creative director of the opening ceremony Konstantin Ernst said that he called down to master control to tell them to run the practice footage when he realized what happened, adding that the use of the pre-recorded footage is an open secret.
The show's artistic director George Tsypin said the malfunction was caused by a bad command from a stage manager.
The unveiling of the rings is always one of the most iconic moments of an opening ceremony, and President Vladimir Putin has been determined to use the ceremony as an introduction of the new Russia to the world, the report added.