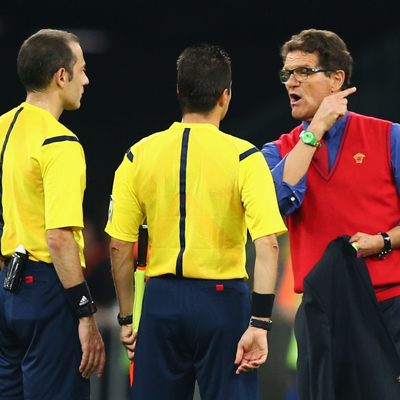 Russia coach Fabio Capello is apparently miffed after a laser beam hit the Russian goalkeeper Igor Akinfeev's face during their match against weaker opponent Algeria, a match that the former eventually went on to lose and put an end to their World Cup campaign.
Watch a laser being shone in Igor Akinfeev's face before Algeria's goal v Russia (UK only): http://t.co/k7ye3AgEjQ pic.twitter.com/H5BpRxtog8

— BBC Sport (@BBCSport) June 27, 2014
The hosts of the next World Cup, Russia were eliminated amid much controversy, on Thursday, in a group H encounter that ended in a 1-1 draw. They needed that win to qualify for the round of 16. The Italian is believed to have blamed the laser, after Akinfeev had been blinded by a laser pen directed at him by someone in the crowd, a move that led to the build-up of a crucial goal in the 60th minute by Islami Slimani off a Abdelmoumene Djabou free-kick.
Television footage and photographs showed an evident green light aimed directly at the goalkeeper's face and he was protesting furiously as Djabou sent the ball sailing into the area. Akinfeev lost flight of the ball and Slimani leaped to draw level against Algeria.
"He was blinded by the laser beam, that is the absolute truth. There are pictures. You can see that in the footage. This not an excuse, it is a fact. There was a laser. I have never come up with excuses to get by in my entire life" Capello reasoned as per media reports.
The Italian is known for having an illustrious record, having won nine league titles in 16 seasons with Italian giants AC Milan, Real Madrid and Juventus. However, conversely, he's had an equally dismal record at World Cup matches. Of the seven World Cup games he has managed to secure only one win–when England beat Slovenia 1-0 four years ago.
He sounded uncertain when quizzed about his continued association as Russia manager after a disastrous campaign, to the media he said "If they want me." An English scribe invoked a sharp attack from Capello when his record at the World Cup was questioned and asked if he thought he was equipped to lead Russia into 2018. "We'll have to ask the management that," he said, before adding: "As for England, we did actually reach the knockout round and, by the way, let me make this clear: it was thanks to us that they introduced goal line technology [after Frank Lampard's "goal" was ruled not to have crossed the line against Germany]. I qualified your team to participate in the Euros and the World Cup and the figures I got were pretty respectable."
"And now after 12 years [of not qualifying], under my leadership this [Russia] team made it to the World Cup, OK? I did a pretty good job there I think but if you were to say that we have not done a good job here then I agree with you."
Algeria coach, Vahid Halilhodzic, refused to acknowledge the presence of laser, saying he was unaware. "It is the first I have heard of it; I have not seen the TV pictures, so I have nothing to say," he said. "It something that [people] can discuss in restaurants and bars. Now, let's talk about the game. I am very proud but we can play better. Why not against Germany?"
Algeria have a tough assignment as they face Germany on July 1 (Tuesday) at Estadio Beira-RioPorto Alegre. The former, in their previous two encounters have won on both occasions.