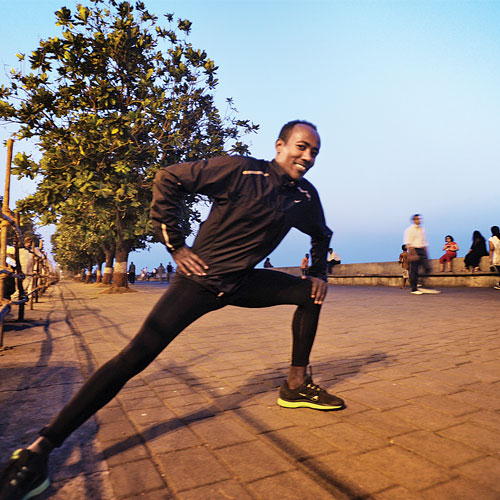 As the sun set down the Arabian Sea, more and more athletes who will be participating in the Standard Chartered Mumbai Marathon took to the jogging track along the Queen's Necklace on Friday. With the entire lot being put up at the Trident Hotel nearby, curious onlookers were at the hotel entrance gate. In no time did people see Kenyans, Ethiopians and Europeans jostling for space so that they could end their 20-minute jog with some stretching exercises.
Sibusiso Nzima from South Africa likes to lead from the front. The 27-year old from Johannesburg is the pacemaker for the Men's Full Marathon. His role is to lead the rest of the pack so that they are well within the meet record. His training regime involves running 200km over a week.
"Most of us arrived on Thursday. Friday's the only day we've got for practice as you'll be seeing none of us on Saturday as we'll be catching up on some much-needed sleep. We had a session in the morning and the one now will be the final one before the race," said a panting Nzima, who dashed into the hotel saying he was feeling cold.
The Belgium pair of Stejn Fincioen and Stephan Van Den Broak will be leading from the front as far as the Women's Full Marathon is concerned. They don't just like what they're doing, they love it. "Who wouldn't like to see hundreds of women run behind them. Literally," says Fincion.
Word of mouth seems to have worked for the right reasons as far as the amount of new entrants are concerned. "We knew it would be humid and we came well prepared. But we've heard so much from our friends about how the entire city just turns up on a Sunday rooting for those taking to the track. There's a reason why people come here a second time. Let's put that to the test," says Patrick Korir, 25-year-old Kenyan who'll be running the Men's Full Marathon for the first time.