India's top two bastmen — Sharma and Dhawan — need to give their team a good start to reduce burden on Kohli.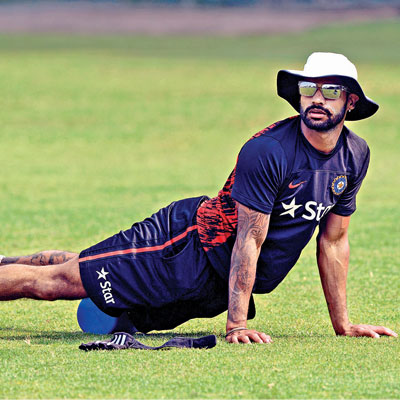 The form of Rohit Sharma and Shikhar Dhawan is a worrying factor for India. It is high time the two explosive openers, each a match-winner in his own right, gets their act together and give India a good start, something that was a feature in the team's successful campaign in last year's ICC Champions Trophy in England.
The openers' consistent failures have put the middle-order under pressure and it is a bit too much to expect Virat Kohli to bail the team out every time. The team also does not have Mahendra Singh Dhoni to play the saviour's role in this tournament. It is imperative on Sharma and Dhawan to get back to their scoring ways.
And no better way than to do it in the sub-continent. After a painstaking 50-run partnership against Bangladesh on Wednesday, the two will return to the same venue when India take on Sri Lanka in their second match in Fatullah on Friday, having known the pitch conditions better and making the necessary adjustments.
Both the teams have a win each, though in contrasting styles as Kohli's team put it across Bangladesh by eight wickets while Angelo Mathews' Lankans pipped Pakistan by 12 runs in the Cup opener.
In a match that could decide the table toppers, it is vital that Dhawan and Sharma give India a bright start and negate the hapless Indian bowling, which is another worrisome factor for Kohli and Co.
India's opening partnership in the last eight ODIs, of which the Dhawan-Sharma combine featured in seven of them, reads like this (in descending order): 50, 8, 5, 64, 22, 15, 10, 14. Barring one win and a tie, the other six were in losing causes in South Africa and New Zealand.
Dhawan and Sharma had two century partnerships and two half-century stands in five Champions Trophy matches in England last year, paving the way for their glorious run in the tournament. Their failure in the fast and bouncy pitches of South Africa and the seaming conditions of New Zealand reflected in India's results – two back-to-back ODI series defeats.
They say well begun is half the job done. It sits pretty on the Indian openers. Sharma seemed to have arrived in the stage after being given many chances when he clobbered the Australian attack to a double century in Bangalore last November. Ever since, he has only two half-centuries to show in 11 outings. On the other hand, Dhawan, who played one less game since Australia left the Indian shores, has only one century, his next best being 35 against the West Indies in Visakhapatnam.
The two like the ball to come on to the bat. They are not afraid to play their strokes. It is their natural instinct to go after the leather, especially when only two are outside the circle during the first Power Play. But they have not been able to make minor adjustments to their technique and that has cost them, and India, dear in South Africa and New Zealand. They were found wanting so much so that Sharma was struggling to put bat to ball, consuming one delivery too many.
Come Friday, the Indian openers will have to give India the launch pad, or they may be hastening a plummet.