Twenty four-year-old wins decider as Parupalli Kashyap-led side beat Germany 3-2 in Thomas Cup league tie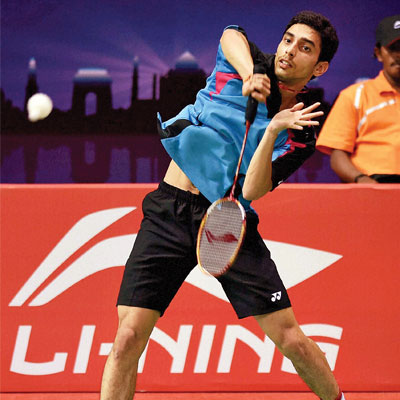 Indian men pulled one back to exit the Thomas and Uber Cup on a winning note. In an inconsequential tie against Germany, India, already knocked out of the tournament with losses against Malaysia and Korea, won 3-2 to salvage some pride.
It was not an easy win, though, for the Parupalli Kashyap-led Indian men. After Kidambi Srikanth gave the home team a winning start by taking the first match 21-18 18-21 21-18 in a hard-fought match that lasted four minutes shy of an hour, Germany took the next two matches. Michael Fuchs and Johannes Schoettler whipped the Indian doubles pair of Manu Attri and B Sumeeth Reddy 21-15 21-6 in just 26 minutes as Germany levelled the tie at 1-1.
Germany surged ahead when 59th-ranked Dieter Domke, who has never won against world No. 21 Kashyap in their five previous encounters, found the occasion to end that record in the second singles match. Kashyap tried his heart out but his 26-year-old German opponent did not let him breathe easy. Domke eked out a 23-21 14-21 21-14 in 55 minutes.
The doubles pair of Akshay Dewalkar and Pranaav Jerry Chopra then brought India back into the hunt with a thrilling 21-9 17-21 21-19 win over Peter Kaesbauer and Josche Zurwonne in the second doubles.
With the tie level at two-all, all eyes were on the 24-year-old RMV Gurusaidutt, who has been the saving grace for India, having won his matches against Malaysia and Korea when the rubbers were already decided.
Gurusaidutt edged out Lucas Schmidt 14-21 21-19 21-19 in a come-from-behind high-octane match during which the noise made by the crowd hit a crescendo.
Gurusaidutt produced a brilliant fightback in the second game after losing the first as he made up for a six-point deficit from 5-11 to first claw back at 18-18 and then wrest the lead with a smash. He finally roared back into the contest with a cross court net dribble that found Schmidt napping.
In the decider, Gurusaidutt opened up a lead early on and maintained it, moving from 14-11 to 14-19. Schmidt breathed down his neck and made it 19-20. But with his return finding the net, Gurusaidutt burst into celebration at the end of a 61-minute battle.
It was a celebration badly needed for the Indian men on a day in which all their matches barring the first doubles went the distance.
—(With agency inputs)