The greatest rivals in tennis are set to face each other again.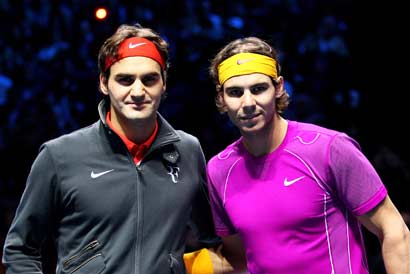 They have met many times before but this time, both men—Roger Federer and Rafael Nadal are older and wiser as they get set to revive their rivalry at Indian Wells. But what makes the rivalry interesting this time around is that they are set to meet after a gap of one year.
The rivalry that started nine years ago in 2004, when Federer, the world's best tennis player was on court for a third-round match in Key Biscayne, Fla. His opponent was a 17-year-old who was wearing a sleeveless shirt with a wide bandanna holding back his long hair and pirate pants named Rafael Nadal.
This new kid on the block went on to defeat Federer 6-3, 6-3, in 69 minutes and he would go on to become the Swiss ace's biggest rival and foil. The graceful play style of Federer was on one hand and opposed in it in all ways was the macho physical style of play that Nadal displayed on court.
It was the first of Nadal's 18 victories over Federer in 28 meetings. The rest is history for all tennis fans as it is legend now that none of the meetings that followed between the two men except for one round-robin match at the 2011 ATP World Tour Finals took place before the semi-finals of a tournament.
After 19 meetings in finals which include 8 Grand Slams, this is the earliest in a tournament they will play one another. Interestingly, Nadal and Federer last played one another at the semi-finals of Indian Wells last year, the same tournament that they are set to meet again at this year.
Today, times have changed Novak Djokovic is World No1, Rafael Nadal is returning after almost six months of recovery from an injury and Roger Federer has not made the finals in the last two Grand Slams.
One man will walk away from the court on Thursday night at Indian Wells as the winner but one thing is for sure, for fans of tennis who enjoyed the Federer-Nadal rivalry this match is a mouth watering prospect to see two of the best tennis players ever face each other.