With Rs 3 crore deal in IPL, Rishi Dhawan hopes to be first from Himachal Pradesh to play for India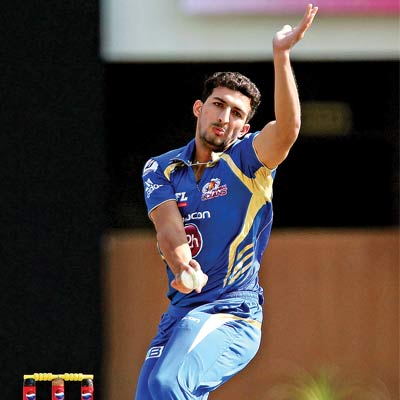 Rishi Dhawan left his picturesque hilly state for hard life of an aspiring cricketer. He sacrificed even his studies in this endeavour. All the hard work and travelling overtime has finally started paying dividends for 24-year-old Himachal Pradesh all-rounder as he has been picked by Kings' XI Punjab for a whopping Rs 3 crore recently.
It's been three years since small-town boy Rishi decided to leave his home town, Mandi, in search of fame. There was not much choice for the youngster who had just begun his college. Son of an air conditioner mechanic, he knew that he has to get out of his state if he wants valuable cricketing experience, which included playing in different leagues (including IPL) and clubs.
Once decided, he did not look back and now with promise of few crores in his kitty, he is eying to be the first from his state to make it to the highest level, Team India.
"I'm giving my hundred per cent as and when I get a chance to play anywhere. I really don't mind whether its a five-day game, one-dayer or a T20, I just go out and give my best," Rishi told dna.
The highest wicket-taker in the recently concluded Ranji Trophy season with 48 wickets, Rishi says he believes that he can also make big impact with his batting. He scored a total of 450 runs last season which included five half-centuries.
"I could not convert my five half-centuries into a three-figure mark. But I am sure that I'm as good a batsman as I am a bowler," he adds.
Rishi says that he has no idea how it feels to have Rs 3 crore in his bank account because he has doesn't know or he is not even thinking when he will get this money.
"I did watch the IPL auctions that day at my maternal grandmother's home in Amritsar. I was certainly thrilled like any other player when there was bidding on my name. But that was it, and now I don't even talk about it anymore. I know it will only count if I make winning contribution to my team," said Rishi.
Rishi says that his biggest moment in cricket was to share Mumbai Indians' dressing room with Sachin Tendulkar last year.
"Sachin paaji talked to me several times during the nets and in dressing room. It was about my batting and other aspects of cricket. I'm going to miss that but it will continue to motivate me for the rest of my career," Rishi says.
What next?
"Like I idolise Sachin paaji for batting, James Anderson is my bowling idol. Hopefully, I will get a chance to play alongside him. I want to learn few bowling tricks from him," he adds.
(shekhar.luthra@dnaindia.net)