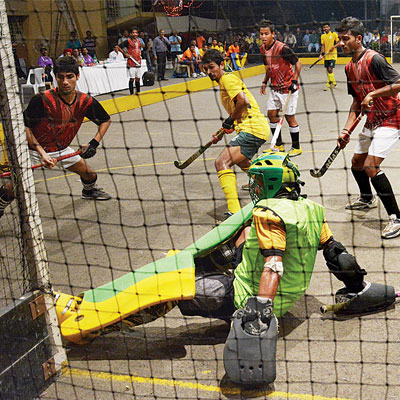 While most of the hockey matches played at the MHA here attract sparse crowd or often none at all, the rink hockey tournament being organised in Bandra has managed to attract an encouraging number of enthusiasts.
For the final of the Mount Carmel Rink Hockey tournament at the St Aloysius School grounds on May 4, in which Union Bank of India beat RCF 2-1 on penalties, there were easily more than 300 people rooting for their respective teams.
There is a lot of difference between field hockey and rink hockey, though the basics remain the same. For instance, rink hockey is played with five players on field (one goalkeeper + four outfield players) and two substitutes, well as field hockey has 11 players and seven substitutes. In rink, the pitch is relatively smaller, with one-foot high wooden boards as side-lines.
That means, play can continue if the ball hits the board, and players look to make optimum use of those boards. Another important distinction is that unlike field hockey, it is a foul to scoop or whack the ball, except when taking a shot at goal. These rules make the game fast-paced, and short passes imperative.
Hockey has always been popular in Bandra, it is slowly gaining popularity in Malad and Mahim. Viren Rasquinha, former captain of the national hockey team is a Bandra-boy. He says he developed a liking for hockey by watching such tournaments. "When I was a kid, my dad used to bring me to watch the games, and I was inspired by the skills the players used on such a small ground. That's when I made up my mind to become a hockey player," he says.
A major problem that hockey faces in India is the lack for supporters for local league matches. Though the Hockey India League (HIL) generates quite a lot of interest, there are still empty stands at some of the games.
Students, too, prefer to take up either cricket or football. There are only eight schools that participate in the U-16 Mumbai School Sports Association (MSSA) tournament. Due to lack of players, schools like Don Bosco (Matunga) and St. Stanislaus (Bandra) are forced to have the same set of players playing hockey and football.
Saby Noronha, who coaches the St. Andrew's (Bandra) school team says that rink hockey can be the way forward if we want to revive the hockey spirit. "This game is fast, and can be played any where. You don't need an Astro Turf to play. Also, young boys and girls like this fast-paced game and come in large numbers to watch it. I think we should have more tournaments to generate interest."